Framing Old Masters
Over the course of time many old masters have received unsuitable frames which generally display one or more of the problems illustrated in the examples below.
All paintings framed by Paul Mitchell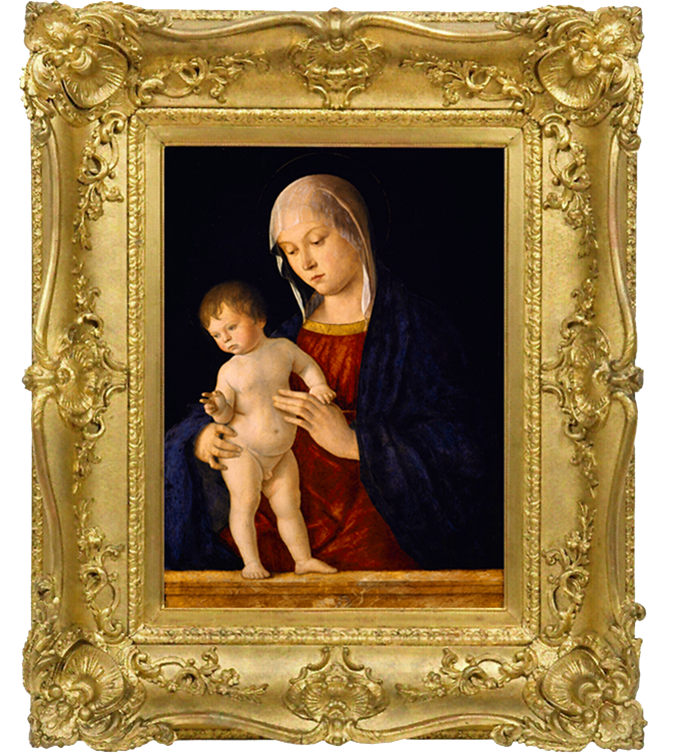 Before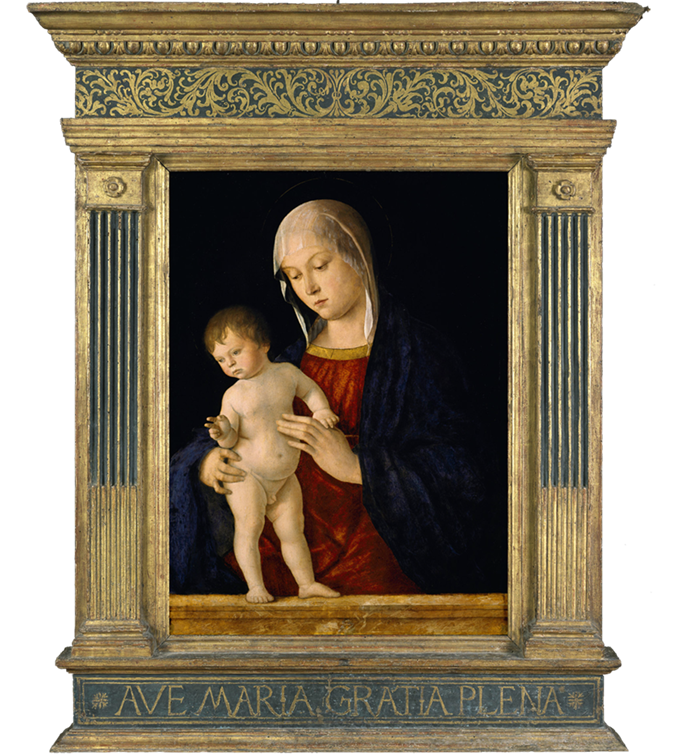 After
GIOVANNI BELLINI (1430-1516)
Virgin and Child, c. 1480-85
Glasgow Museums and Galleries
Since the 19th century, this painting has been swamped in a Victorian Rococo style Gallery frame, the polar opposite to an authentic setting, created by this high quality reproduction of an original Italian Renaissance tabernacle frame.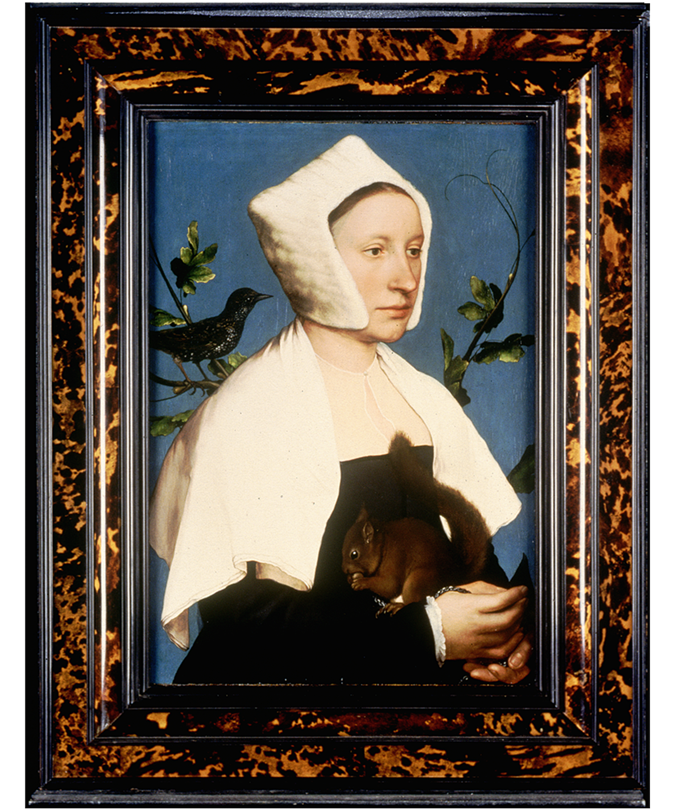 Before
After
HANS HOLBEIN THE YOUNGER (1497-1543)
A Lady with a Squirrel and a Starling (Anne Lovell?), 1526-8
The National Gallery, London
It was hard to focus on the sitter surrounded by a blaze of synthetic tortoiseshell in this 20th century reproduction frame. The oak frame is authentic for the period perfectly complementing the blue background and squirrel with an acorn.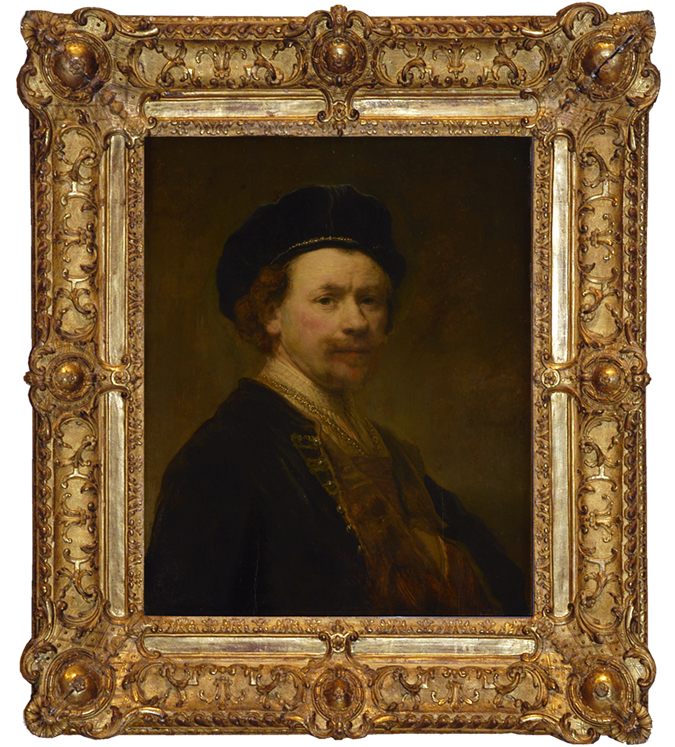 Before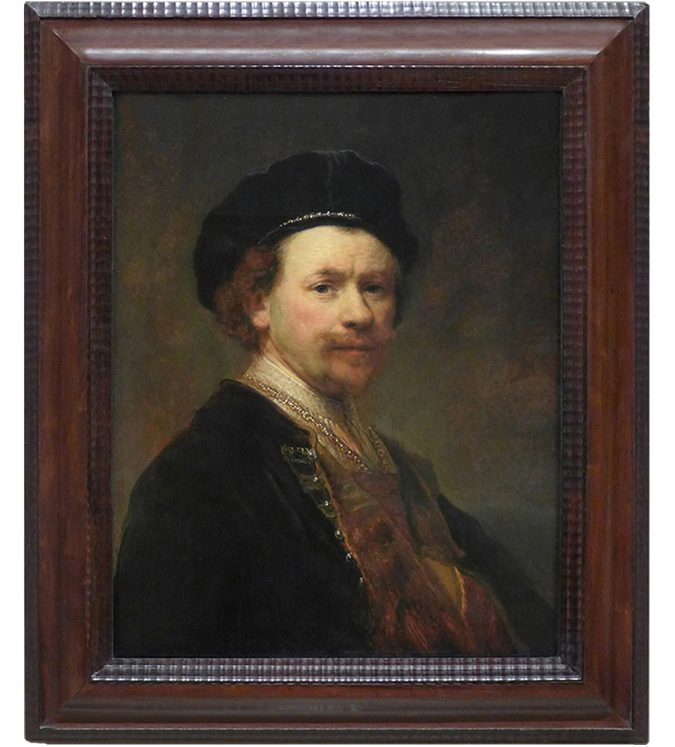 After
REMBRANDT VAN RIJN (1606-1669)
Self Portrait, c.1636-68
Norton Simon Museum
The heavy corners and centres as well as bright gilding of this anachronistic French 18th century frame disturb the composition. Following cleaning and conservation, the portrait was further enhanced by the sympathetic colour of this 17th century Dutch frame veneered in palisander wood.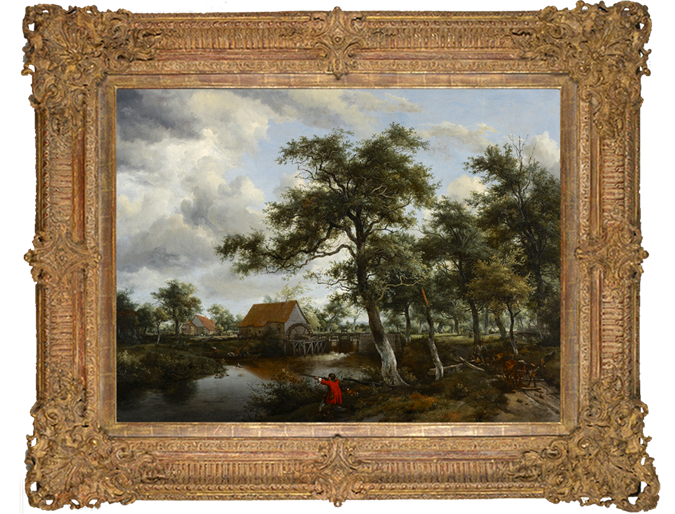 Before
After
MEINDERT HOBBEMA (1638-1709)
Wooded Landscape with Watermill, c.1665
Minneapolis Institute of Arts
This major landscape was previously fitted into a magnificent French 18th Century portrait frame turned sideways, creating an over-the-top presentation with distracting ornamentation. By contrast the antique period Dutch frame both enhances perspective and harmonises with the artist's palette allowing our calm contemplation of the subject.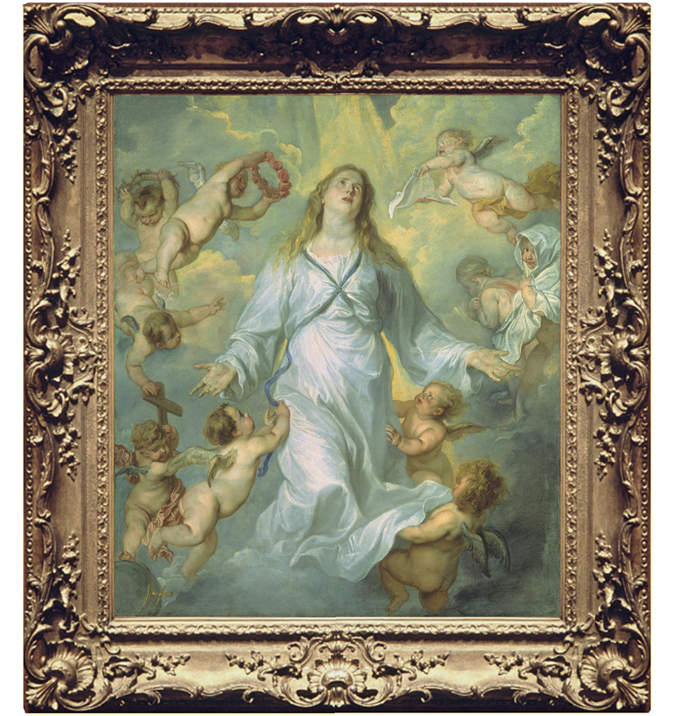 Before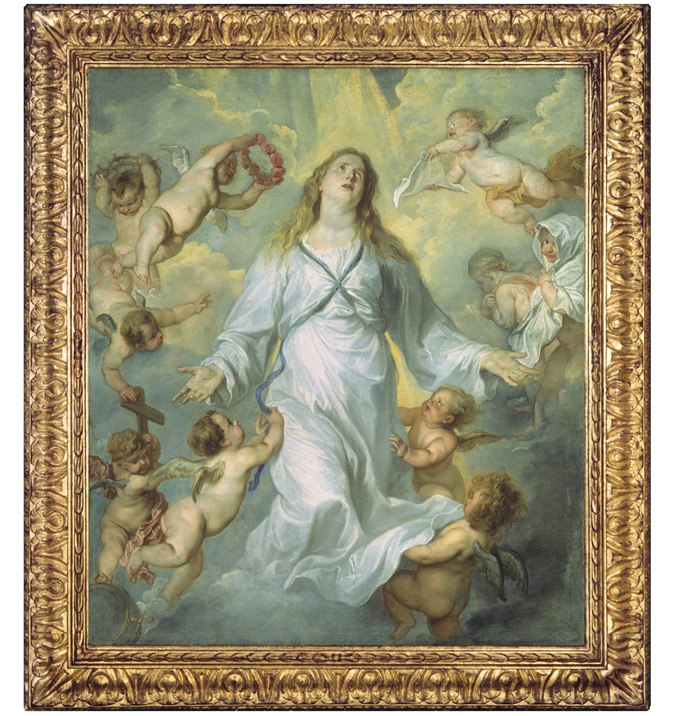 After
SIR ANTHONY VAN DYCK (1599-1641)
The Virgin as Intercessor, 1628-29
National Gallery of Art, Washington
This lyrical depiction of the Virgin ascending was trapped in a claustrophobic collector's frame, its obtrusive centres and corners undermining the radiant oval of cherubs. The substitution of this 17th century linear Baroque reverse leaf frame surrounds the scene with a shimmer of flickering gold, subtly invoking Van Dyck's recent travels to Venice and Rome, and his study of Guido Reni.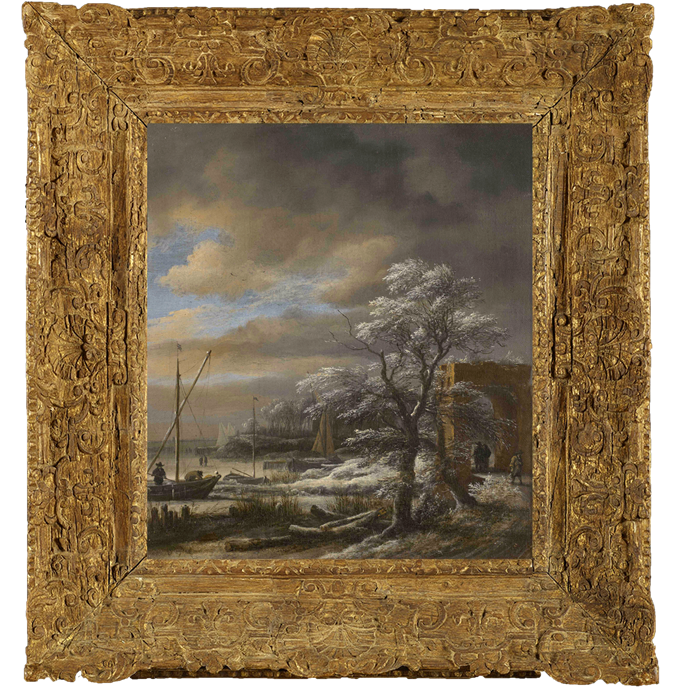 Before
After
JACOB ISAAKSZ VAN RUISDAEL (about 1628-1682)
A Winter Landscape
Birmingham Museum of Art, Alabama
This ornamental frame stripped of its gilding is a riot of rusticity dominating our attention. Sixty percent more than the picture surface it creates a suffocating distraction, having no affinity with subject or palette.
The contemporary antique cabinetmakers ebonised fruitwood frame instantly transforms how we see Ruisdael's masterpiece. The neutral black surround projects the scene's vivid perspective. Light-catching fine ripple mouldings echo depicted details and subtly define the composition.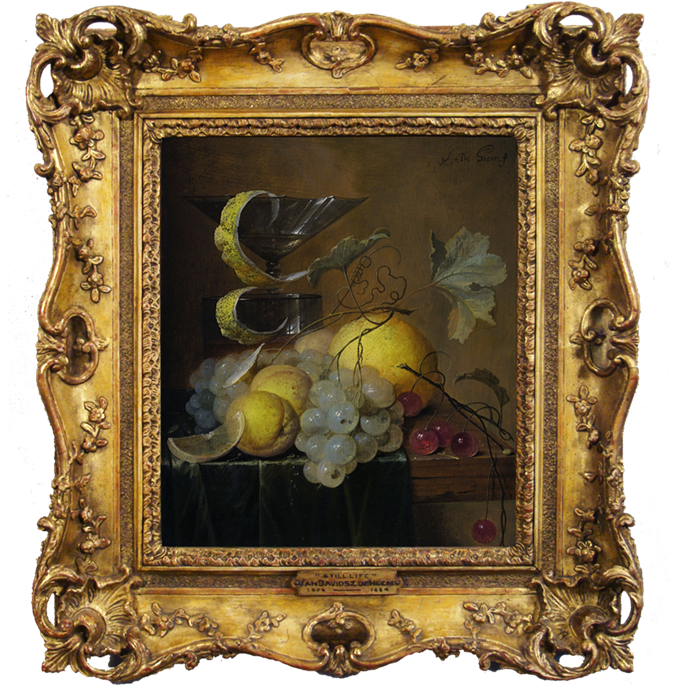 Before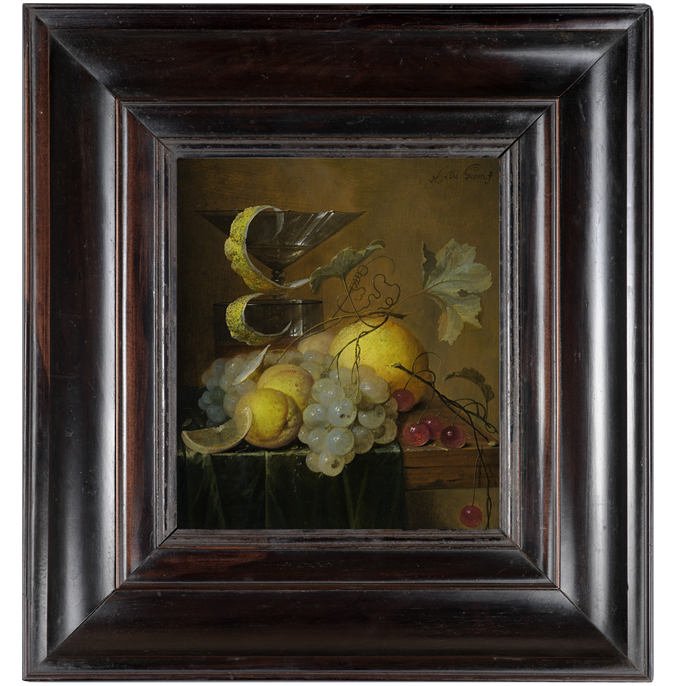 After
JAN DAVIDSZ. DE HEEM (1606-1684)
Still Life with a Wine Glass, Lemon Peel, Peaches, Grapes and Cherries on a corner of a partly draped Wooden Table
Private Collection
The previous reproduction Louis XV frame was a stylistic mismatch, clashing with the still life's composition and colour scheme. The painting was transformed by this antique Dutch 17th century ebony frame giving an uncluttered focus and intensification of the image.