FRAME WATCH: Framing the Impressionists, part 1
Posted: 17 May 2017 by PML
If we see a 16th century Italian painting in a museum, we might probably expect it to be framed in a contemporary cassetta; if we see - say - a 17 century French portrait, we might hope for a Louis XIV frame, expertly carved and gilded, and perfectly designed to set off the colouring, costume and brushwork of the work it contains.
But what do we expect when we see an Impressionist painting...?
This is a movement for which the type of frame associated with the respective paintings has been strangely distorted by historic and economic considerations, influenced by the early collectors of and dealers in Impressionist art.
If you visit (for example) the Sterling and Francine Clark Art Institute, you will find that many examples of their striking collection of Impressionist works are framed in late 17th and 18th century French frames, 150-200 years earlier than the paintings. Often these will make fortuitously happy marriages: Renoir's work, saturated in the atmosphere of French fêtes galantes by Boucher, Fragonard and Watteau, is beautifully set-off by an antique frame, but in other cases the reverse is the case.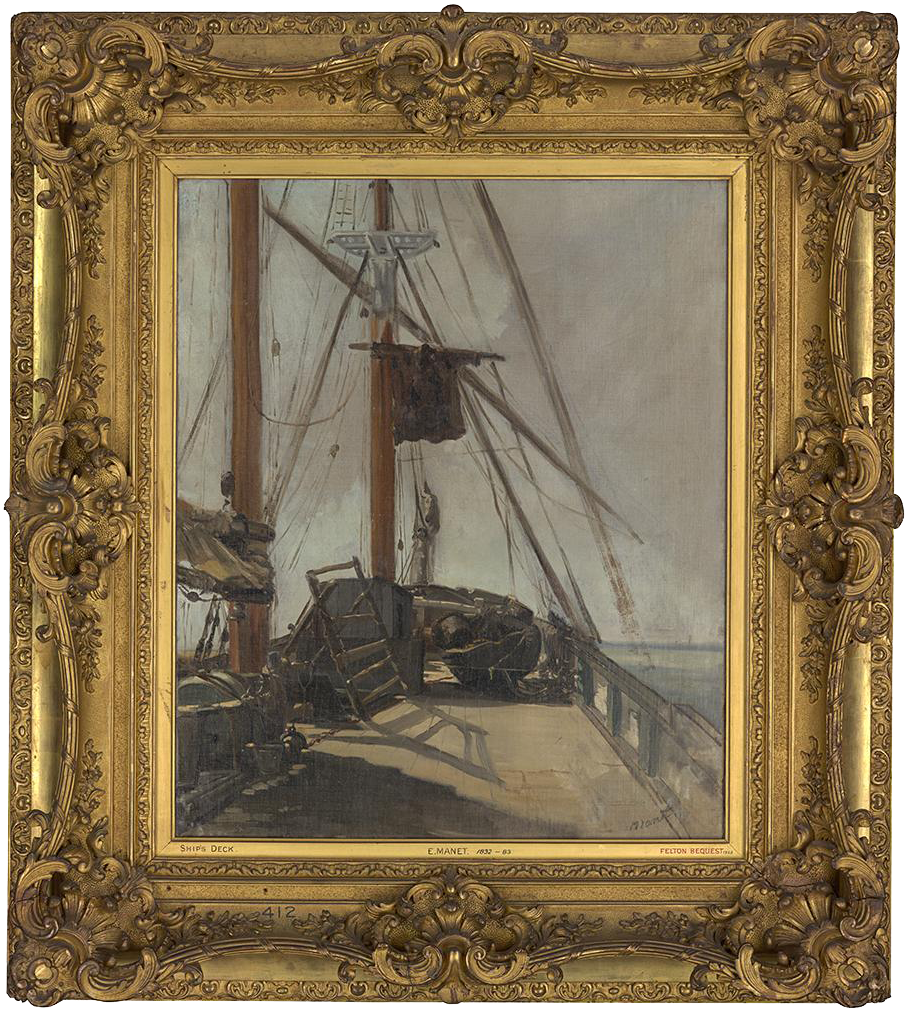 The discursive, spontaneous and innovatory style of Manet's painting of ship and sea  in the National Gallery of Victoria is completely at odds with the formal, sculptural structure of the Louis XV frame which used to display it, and which was actually designed for an 18th century portrait composed of strong masses, serpentining lines, and Baroque lighting.
How did these strange disjunctions come about, and how have they seeped into our collective consciousness, so that we almost expect an Impressionist painting to be exhibited in an antique French frame?
When the Impressionists started out in the 1860s, a group of young artists who preferred to paint scenes of contemporary life and landscape, preferably in natural light outdoors, and in the new synthetic pigments of the mid-19th century, they also wanted their work to be accepted by the Paris Salon, and they framed it accordingly, in the accepted academic style of the time.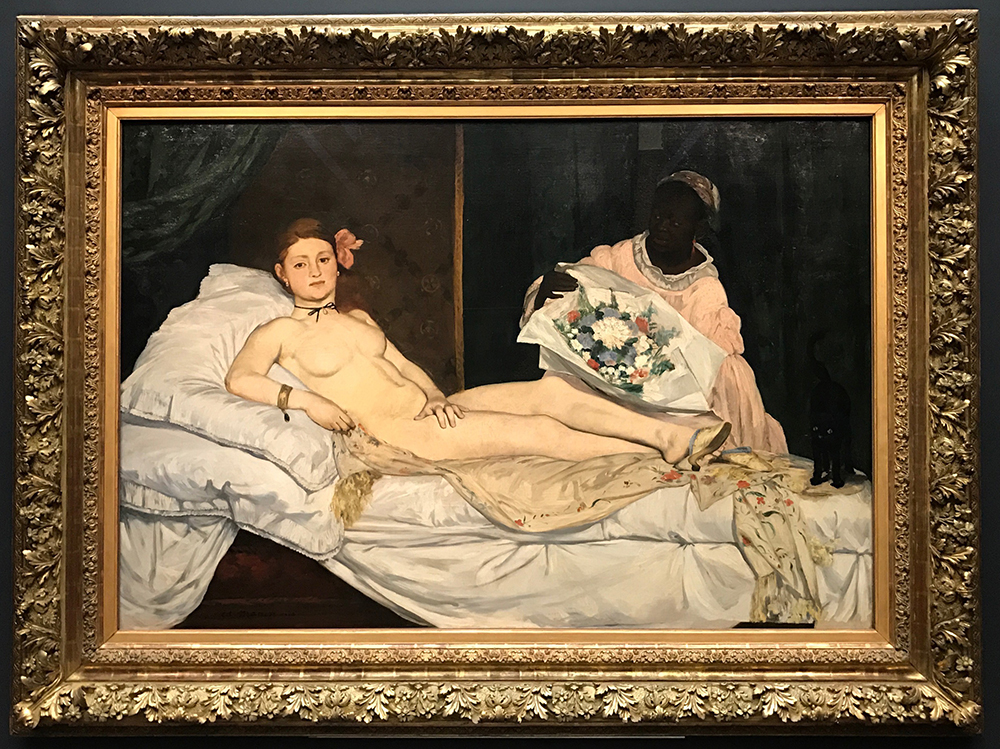 Manet's shockingly confrontational updating of the Titianesque Venus as a teenaged prostitute, challenging the (probably male) spectator with her direct gaze, is given ironic respectability in the uniform of a grand plaster 'Salon' frame, which would have fitted admirably amongst the similar settings of the 1865 Salon where it hung. This did not save it, however, from outraged criticism, and subsequent entries by Manet, Monet, Renoir, Pissarro and Sisley were more often than not blocked by the Salon juries. In 1874 they and other artists (Cézanne, Berthe Morisot, Degas, etc), set up their own independent movement and exhibition; however, they were now paying for their own space and publicity; they were existing on family money or were comparatively badly-off, and - as well as being less able to afford expensive 'Salon' frames - they wished to differentiate their work from academic subjects, style and presentation.
Apart from some of the original frames on works by Degas, none of the original frames used in these exhibitions have survived. We know that they were very simple flat or architrave styles; that the first examples were white, and were followed in the 1880s by frames coloured in complementary tints to the paintings inside them ('...for a sunset where the dominant hue was red, a green frame; for a purplish canvas, a frame in a matte yellow; for a green spring landscape, a rose-coloured setting...' [1]).
[1] Georges Lecomte, Camille Pissarro, in Les hommes d'aujourd'hui, no 336, 1890.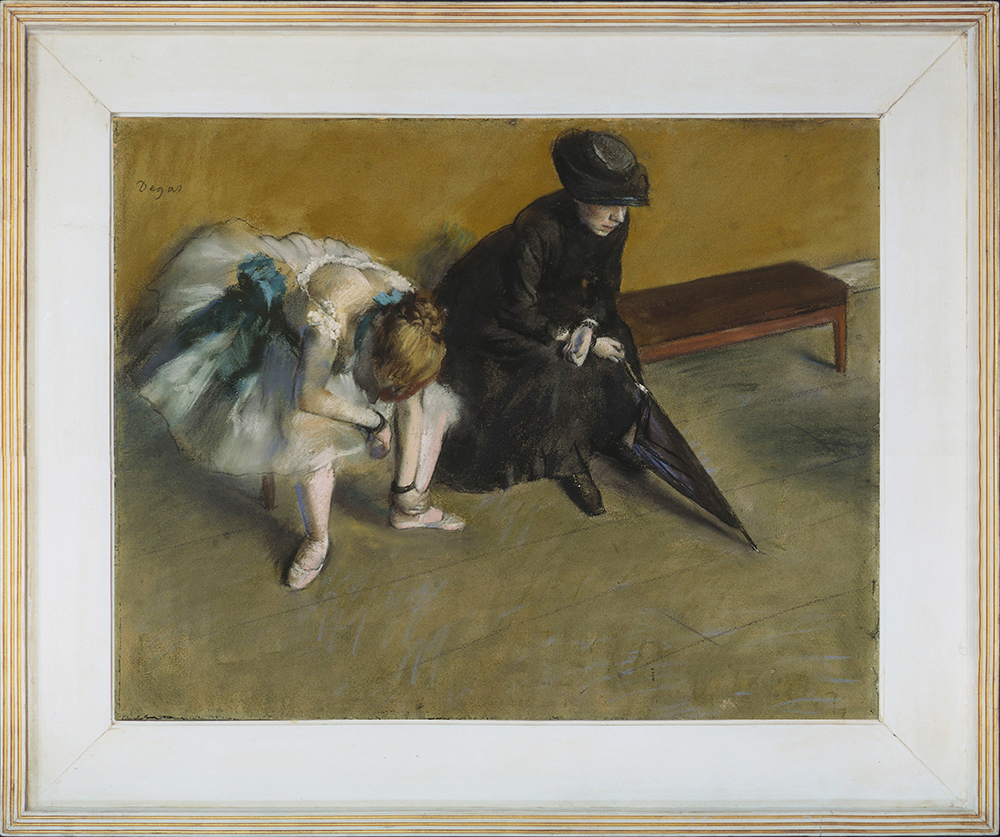 The pastel painting shown here was reframed by Paul Mitchell Ltd in a hand-carved replica of a Degas frame , finished - not in white paint - but with a layer of burnished gesso, as Degas chose, and with the flutes on the raised top edges gilded. This, or a very nearly-related pattern, is how the Impressionists themselves framed their work when they were free of the Salon's restrictions, and the effect on the paintings is strikingly clear. If Degas's Waiting is compared with Manet's Olympia, we can see in the latter a subject and style which was extremly avant-garde for the Paris of 1865, but which is also given a sense of historical continuity and dignity by its grand-luxe gilded academic frame. In Degas's pastel, influenced as it is by a japoniste use of space, contemporary subject-matter and a naturalistic approach to pose and gesture, the innovation of his technique is matched and enhanced by the crisp linearity and minimal gilding of the frame.
Because we are now very used to this style of framing - if not on Impressionist paintings, at least on 20th century modern masters - there is little shock-factor for 21st century eyes, and it may be hard to imagine how radical the plain white architrave frame must have appeared to Parisians encountering it for the first time. But if we then try to recover the coloured Impressionist frame from the same lost past, perhaps we can get some inkling of the reaction the artists must have received.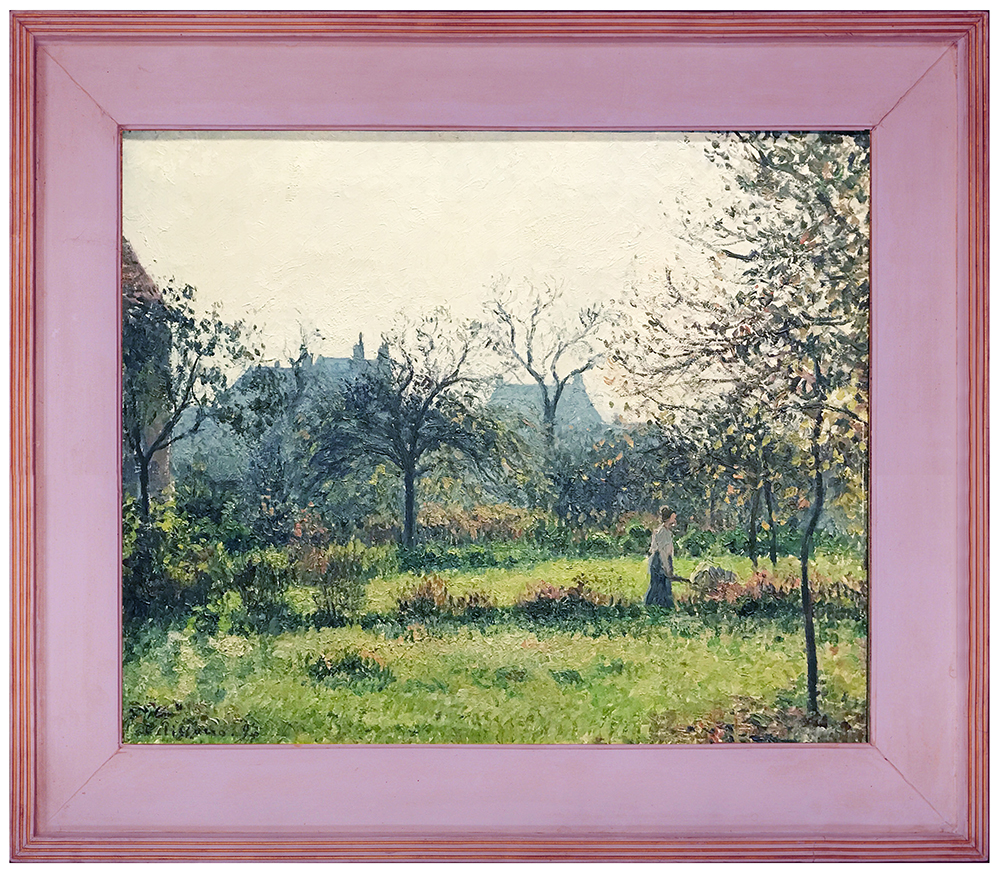 Here is a landscape in Eragny by Pissarro (30 years later, but in a similar style to his 1860s paintings), which is currently framed chastely in a concave gilded frame with a flat frieze. Imagine what it or its predecessor might have looked like framed in the manner suggested in the quote above from Georges Lecomte (' for a green spring landscape, a rose-coloured setting...'). This must be partly why the Impressionists met with what seems now such vitriolic opposition to their work, and why their early dealers - notably Durand-Ruel - found their work so difficult to sell.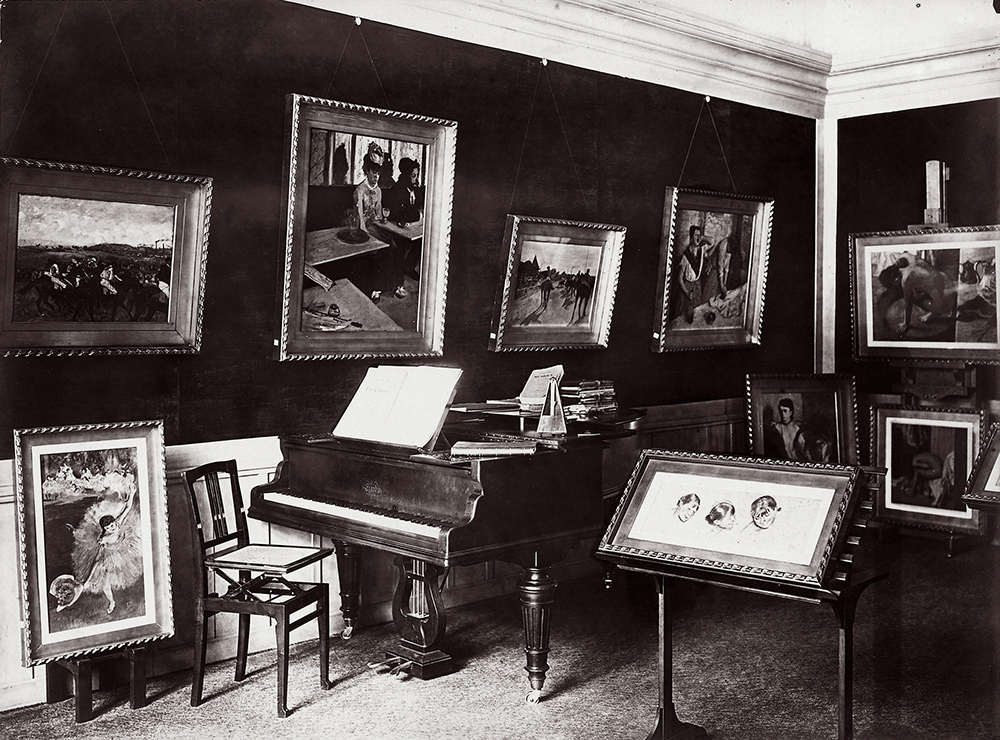 The solution was in general arrived at by taking the work of art as a whole out of the artist's hands and reframing it. The collector Isaac de Camondo seems, however, to have confected his own frame design, most probably in collaboration with Degas, the most fertile designer amongst his peers. The Camondo frame, which is based on a Louis XVI-style NeoClassical pattern, is gilded, but very simple, and has a lot in common with Degas's own fluted pattern seen above on Waiting.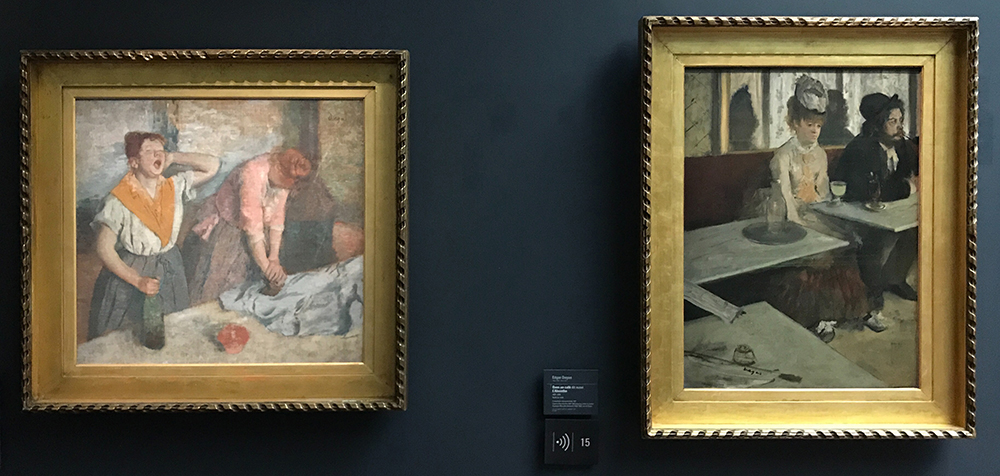 It is still found on a great many paintings in the Musée d'Orsay and elsewhere; for example, in the two instances shown here. Although it is so plain, the gilded finish and NeoClassical twisted ribbon ornamenting it conceals its relationship to the more radically adventurous coloured architrave frames, rendering it much more acceptable to 19th century French society.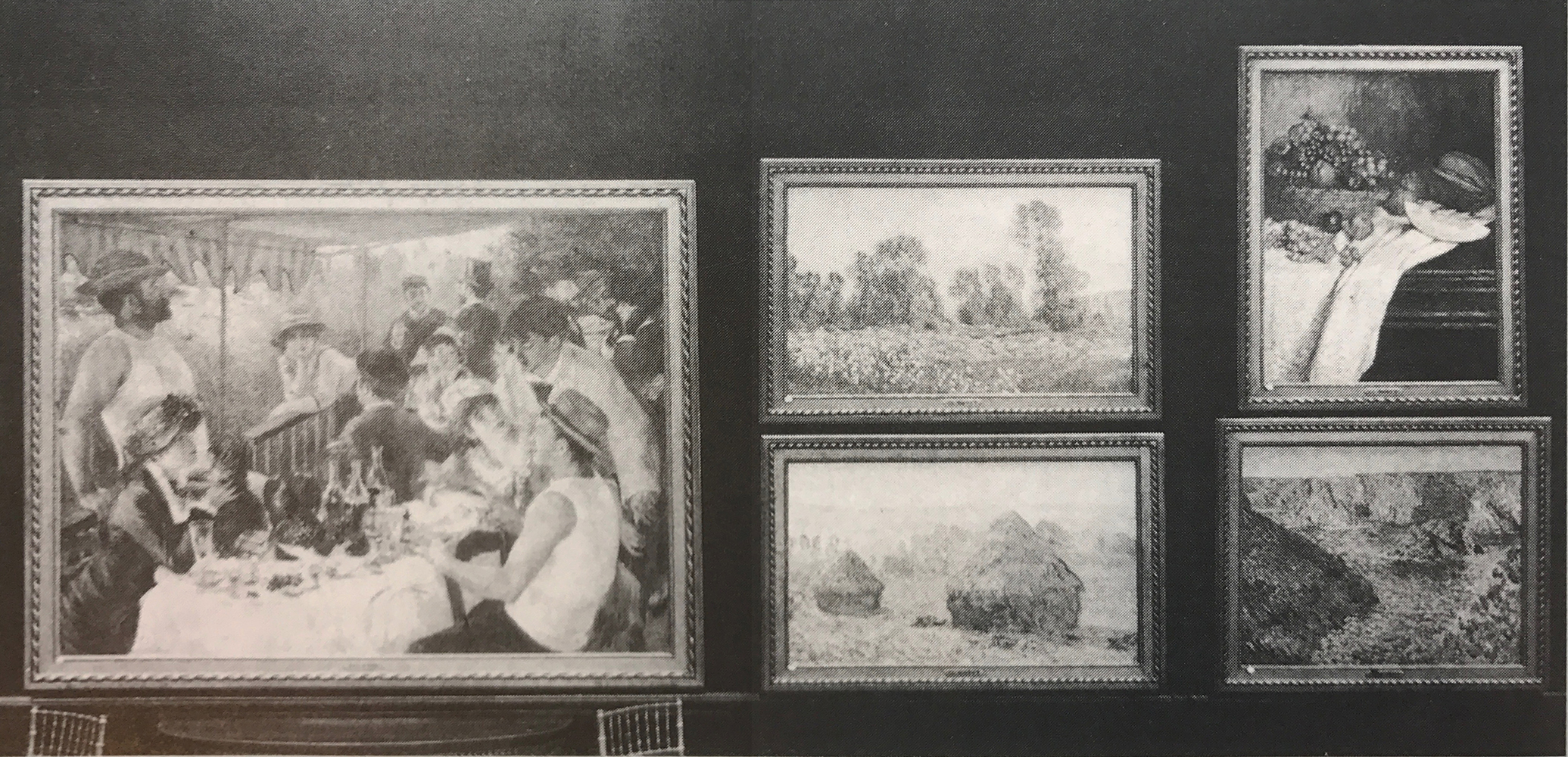 Paul Durand-Ruel may have based his own similar design, which is also connected to Louis XVI frames, on the Camondo pattern. It is narrower than the latter, but still gilded and NeoClassical in style. He used it as a 'livery' or gallery frame on works by Renoir, Monet, Pissarro and others, thus toning down their avant-garde nature and presenting them as paintings within an historic progression of styles. Because both this frame and the Camondo pattern are contemporary with the artists' productions and very carefully considered designs, they work extremely well as modern solutions to badly-framed Impressionist paintings.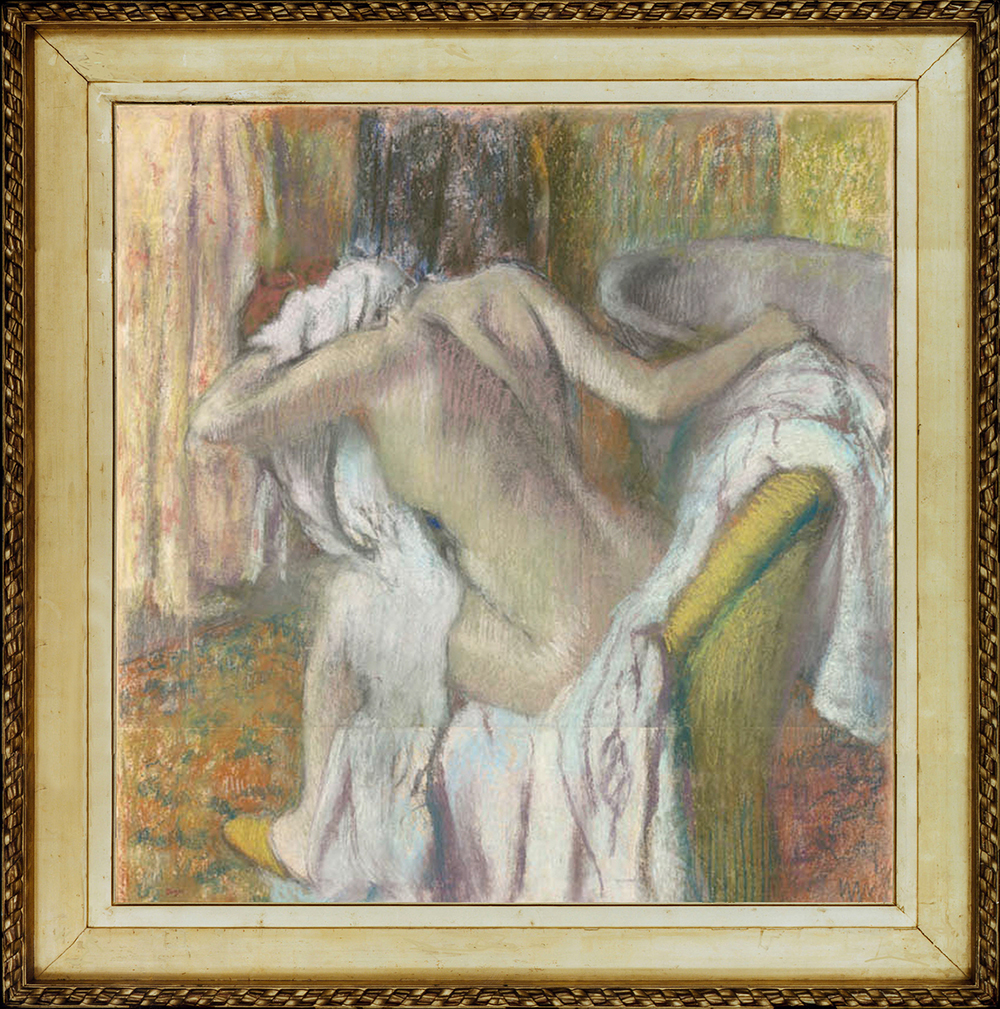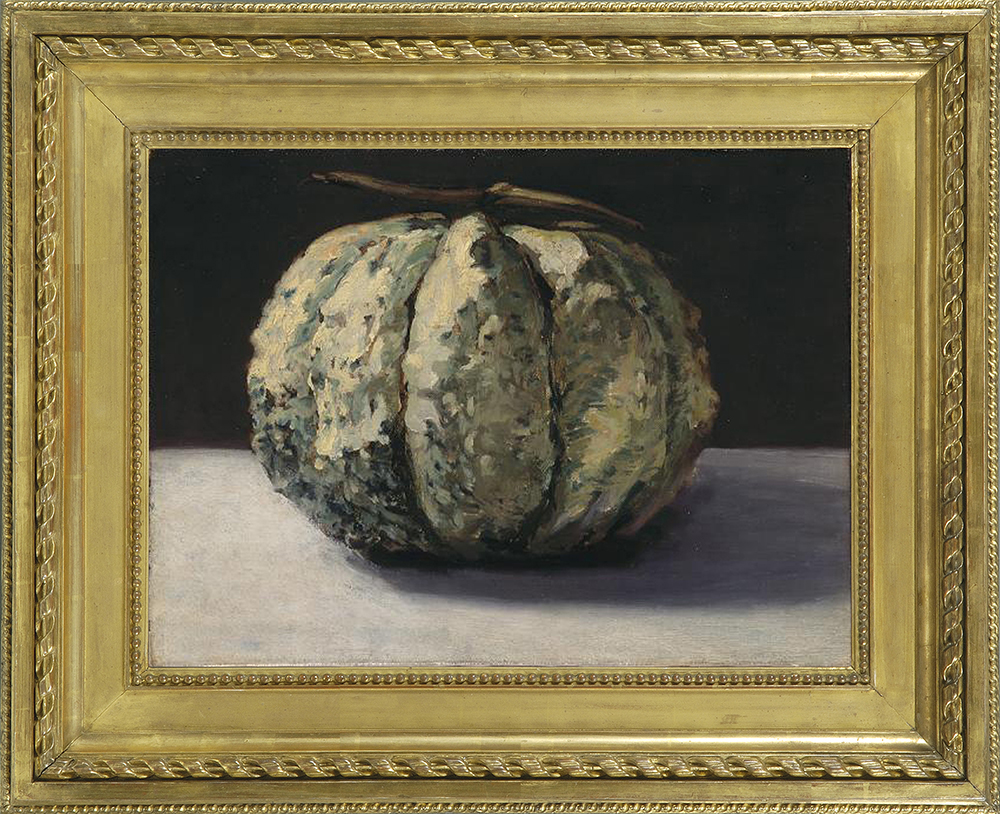 The first frame shown here is a meticulously reconstructed replica of a Camondo pattern and the second is a Durand-Ruel frame, used by Paul Mitchell Ltd to give authenticity to the act of reframing very diverse Impressionist works.
However, neither frame was enough to win over many potential art collectors in the late 19th and early 20th centuries. There were open-minded and wealthy purchasers in Paris, seduced by the freshness of Impressionism, but they wanted to hang any art they acquired in interiors where even a NeoClassically-influenced frame would struggle to integrate such paintings into harmony with the architecture, furniture and other decorative arts.  These were, for the most part, entrepreneurial Americans, who had made vast new fortunes from building roads and railways, refining oil, producing steel, banking, etc. They were also responsible for commissioning mansions designed on the lines of Renaissance palaces and 18th century French châteaux, and filling them with the real contents of their genuine but impoverished European models. These are the collectors who catalyzed, if indirectly, the marriage of Impressionist picture and antique French frame, as the dealers tried to make the paintings they were selling acceptable to these wealthy clients.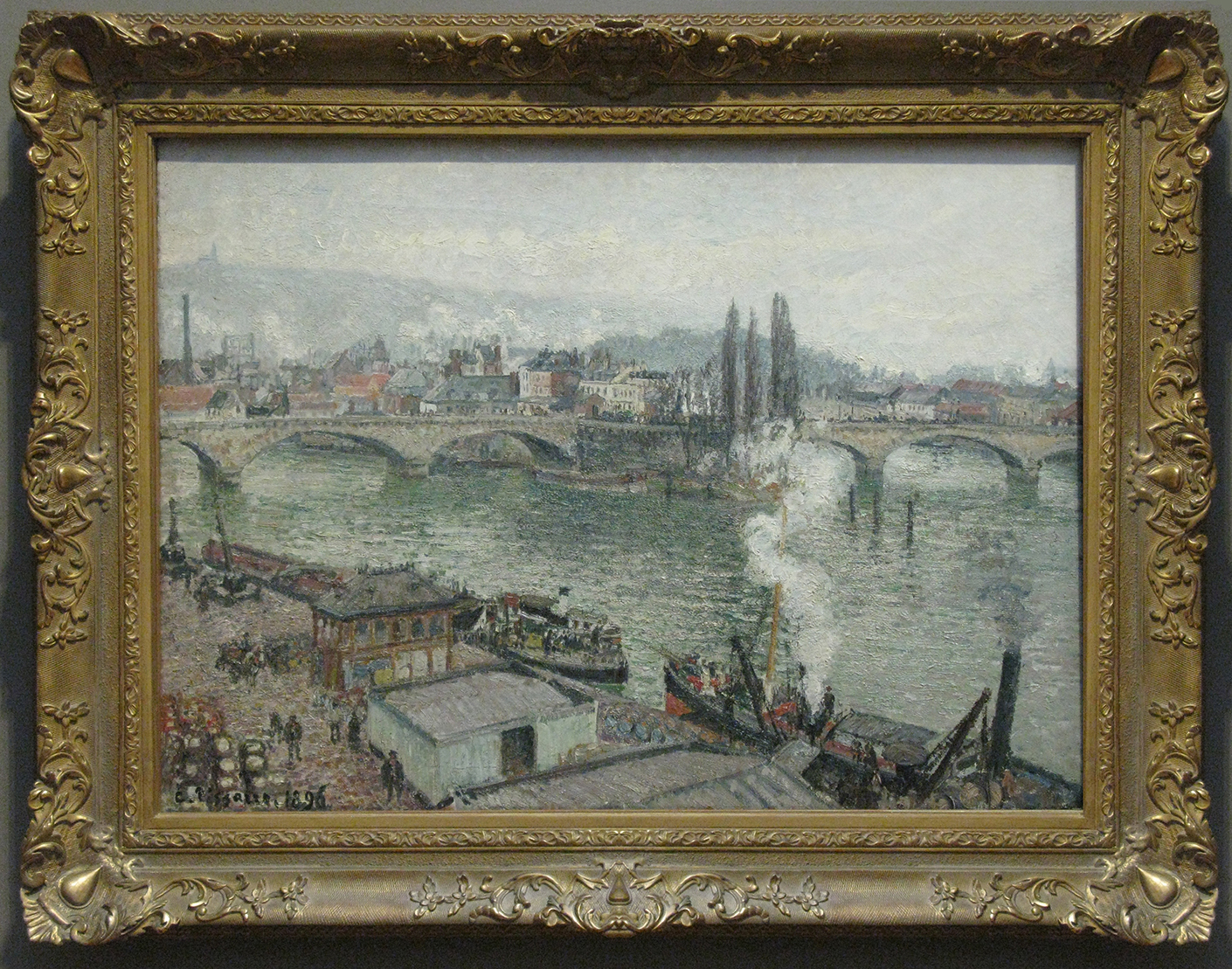 Durand-Ruel even designed his own revival of a French Régence frame, in an effort to present the Impressionist painting in a manner suitable to the gilded opulence of the American client. A good example still frames Pissarro's Stone Bridge, Rouen, in the National Gallery of Canada, above. Collectors like Robert Sterling Clark, however, heir to the fortune generated by Singer sewing machines, preferred the genuine antique article, thereby helping to convince generations of museum-goers that this was the proper setting for an Impressionist painting.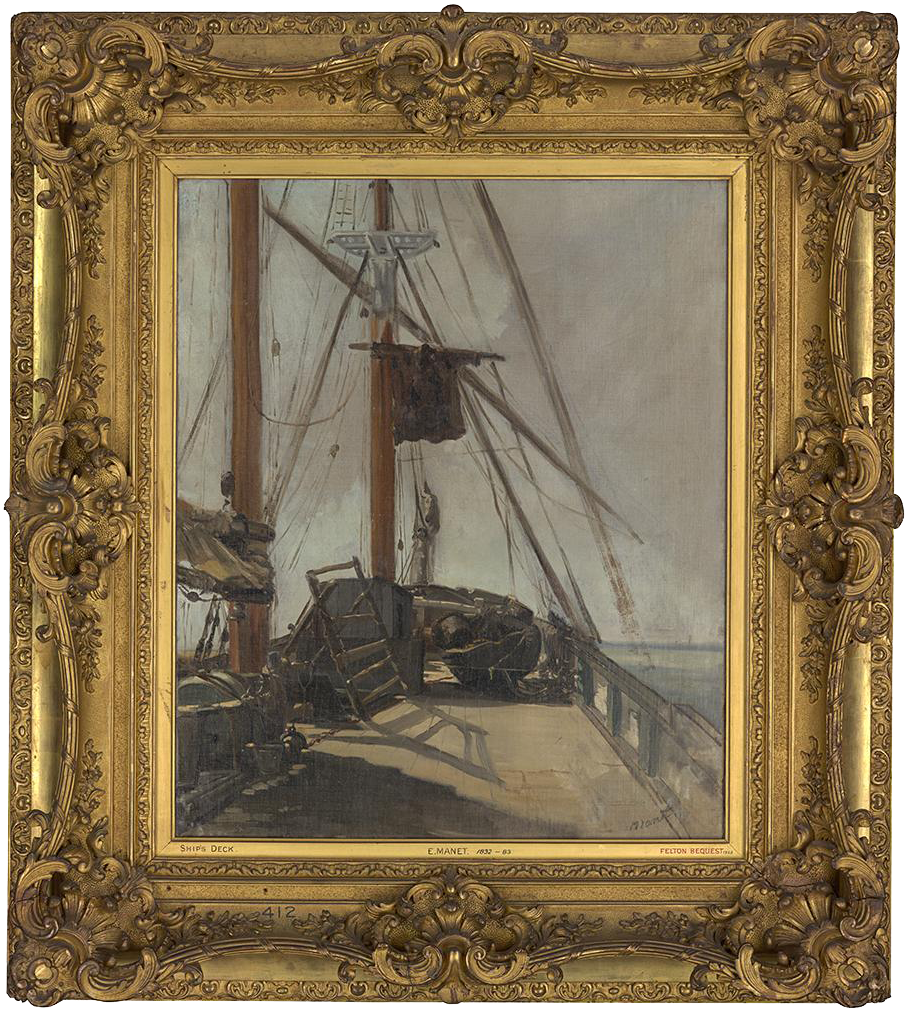 This is the reason why we find frames like the previous Louis XV example on paintings such as Manet's The ship's deck, and why the example of the artists working together with enlightened clients and dealers like Camondo and Durand-Ruel can give an indication of how to remedy these unfortunate and unsuccessful partnerships.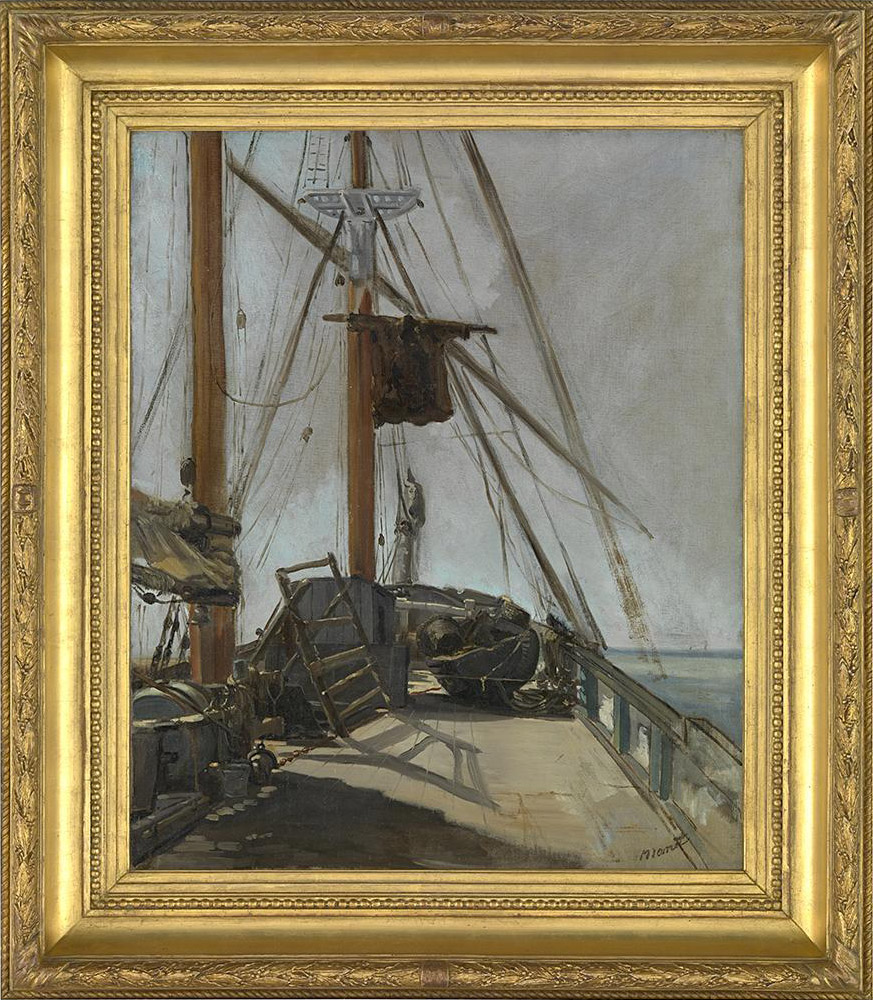 Here is the Manet in its current 19th century French frame, with original gilding, as supplied by Paul Mitchell Ltd; this pattern owes a great deal to the experiments in contemporary frames made by the Pre-Raphaelites in Britain and the Impressionists in France, and is moderated by the changes these brought about in academic framing in the last quarter of the 19th century. These changes were part of a creative wave of innovation in picture frame design which moved counter to the nostalgic trend for using antique patterns on modern works; however, the latter fashion had an enduring effect, and is the reason we still see so many over-framed Impressionist paintings today.
---