FRAMES: The Cassetta, Part 2
Posted: 10 Dec 2016 by PML
In the first part of this article on the cassetta, its ancestors, structure and development were described, along with some of the decorative techniques used to ornament it, such as punchwork and pastiglia. The simple form of this frame - a flat central frieze between mouldings - meant that it was extremely versatile, and practically any form of two-dimensional decoration current from the 13th to the 17th century could be used to embellish it. Gilding and painting were inevitably associated from the very earliest emergence of the frame, and the combination of black and gold was a common and most effective partnership - suitable for any painting and any type of interior (although the most opulent designs were produced in gold leaf and polychromy). 
17th century Italian cassetta with gilded corner -&-centre arabesque motifs 
The plainest and most economical parcel-gilt cassetta had a flat black frieze between gilded mouldings, but obviously any motif which could be produced in punchwork, carving or pastiglia could also be copied in black and gold - either by mordant gilding (applying the gilded decoration on top of a layer of black paint; above), or in sgraffito (scratching through a layer of dark paint to reveal the gilded layer beneath; below).

17th century Italian cassetta with gilded corner -&-centre arabesque motifs

The most frequently-used ornament for a black-&-gold frame was the arabesque: a decorative motif which had become fashionable in late 15th century Italy with the discovery of Nero's Domus Aurea in about 1480. This was a complex of buildings and landscaped gardens created in Rome for the emperor between 64 and 68 AD; the villa was named for its gilded decoration, but was also covered with frescos, stuccos, mosaics and semi-precious veneers. The frescos are notable for the delicate grotteschi which were used as borders for the figural panels, or as overall patterns for vaults and ceilings. They have now faded, but were copied and reproduced in a volume of engravings in 1776. Many 15th century artists visited the cavern-like remains of the Domus Aurea, which had been preserved beneath the subsequent erection of Trajan's Baths; Domenico Ghirlandaio's and Filippino Lippi's scratched signatures are still visible.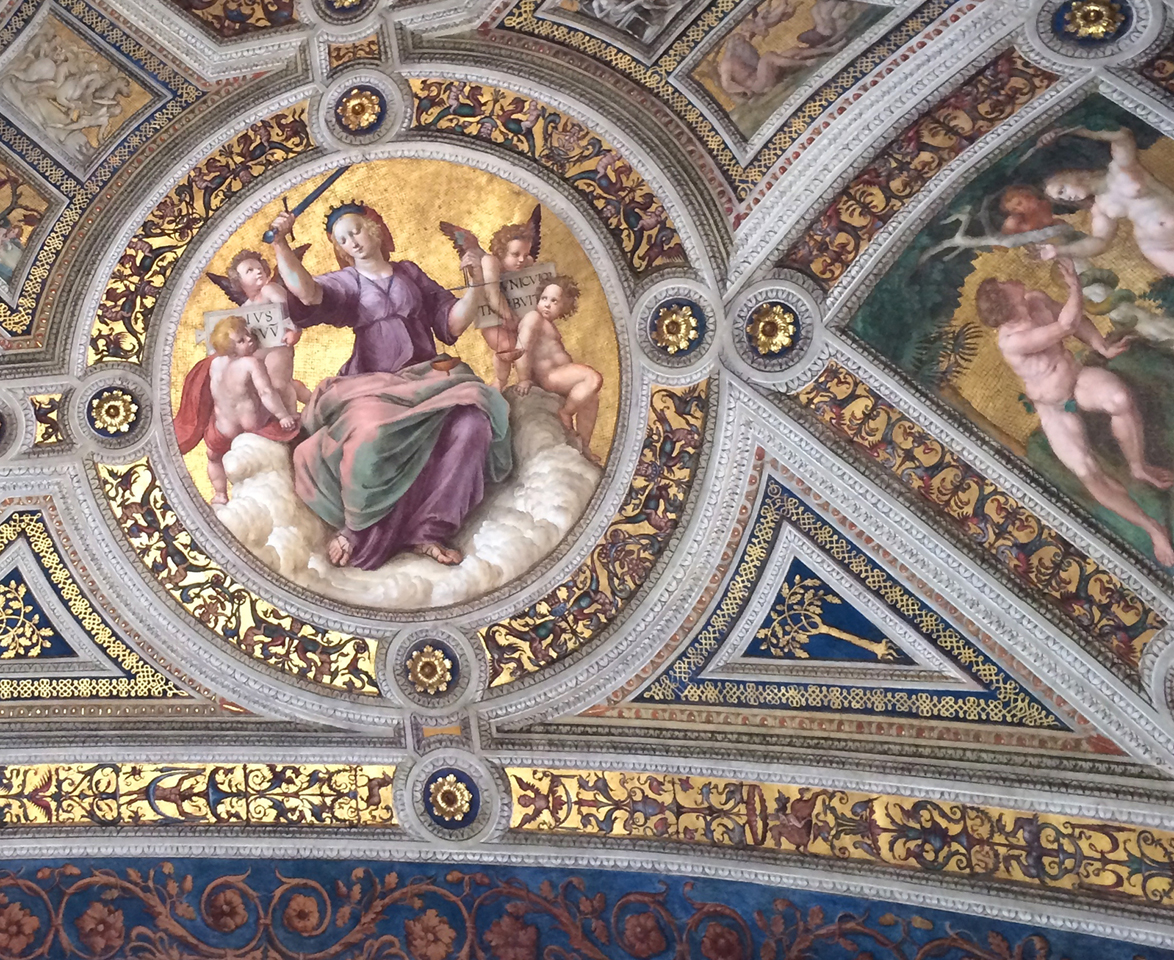 The discovery had its most famous and public effect in Raphael's decoration of a suite of papal rooms in the Vatican, known because of his work as the Stanze di Raffaello. He and his assistants covered the walls with a series of large subject paintings, but the ceiling vaults were decorated with allegories in shaped panels, bordered - as in the Domus Aurea - by bands of gilded and coloured running arabesque and vertical candelabrum ornament.
These startling and innovative designs were soon simplified and adapted in various branches of the applied arts, including the decoration of wooden picture frames; here they appeared either in the form of panels in the corners, or at the corners and centres (for example, on the frame of Mattia Preti's The game of draughts, c.1630s, Ashmolean Museum), or as a continuous repeated pattern around the whole frieze.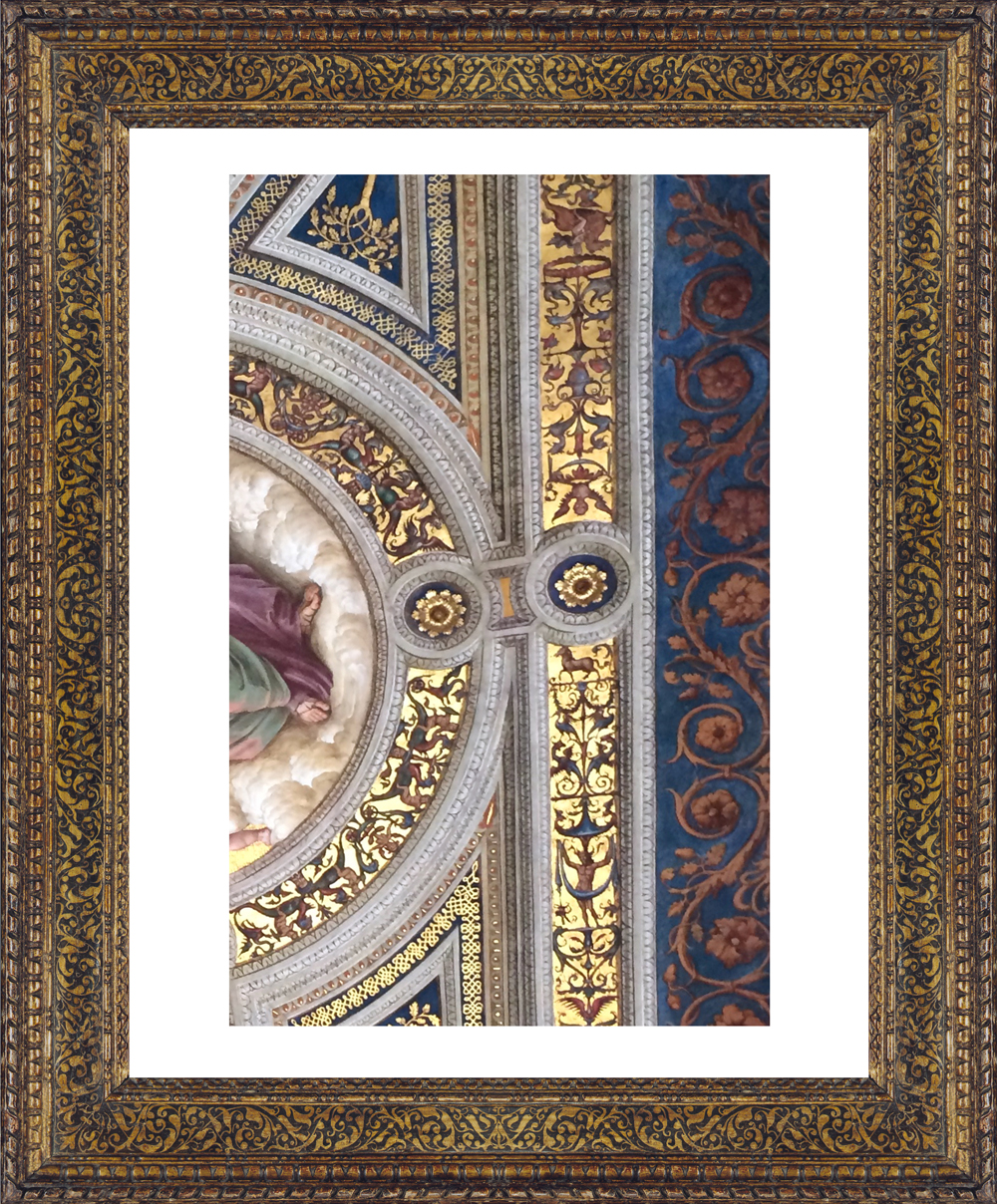 16th century Italian cassetta with running arabesque decoration; detail of ceiling vault, Vatican Stanze

The 16th century cassetta (above, corner detail) shows how detailed and opulent this form of ornament could be, when it was recreated in a complex and sophisticated running pattern which was used to fill the entire frieze, and when it was also combined with carved mouldings.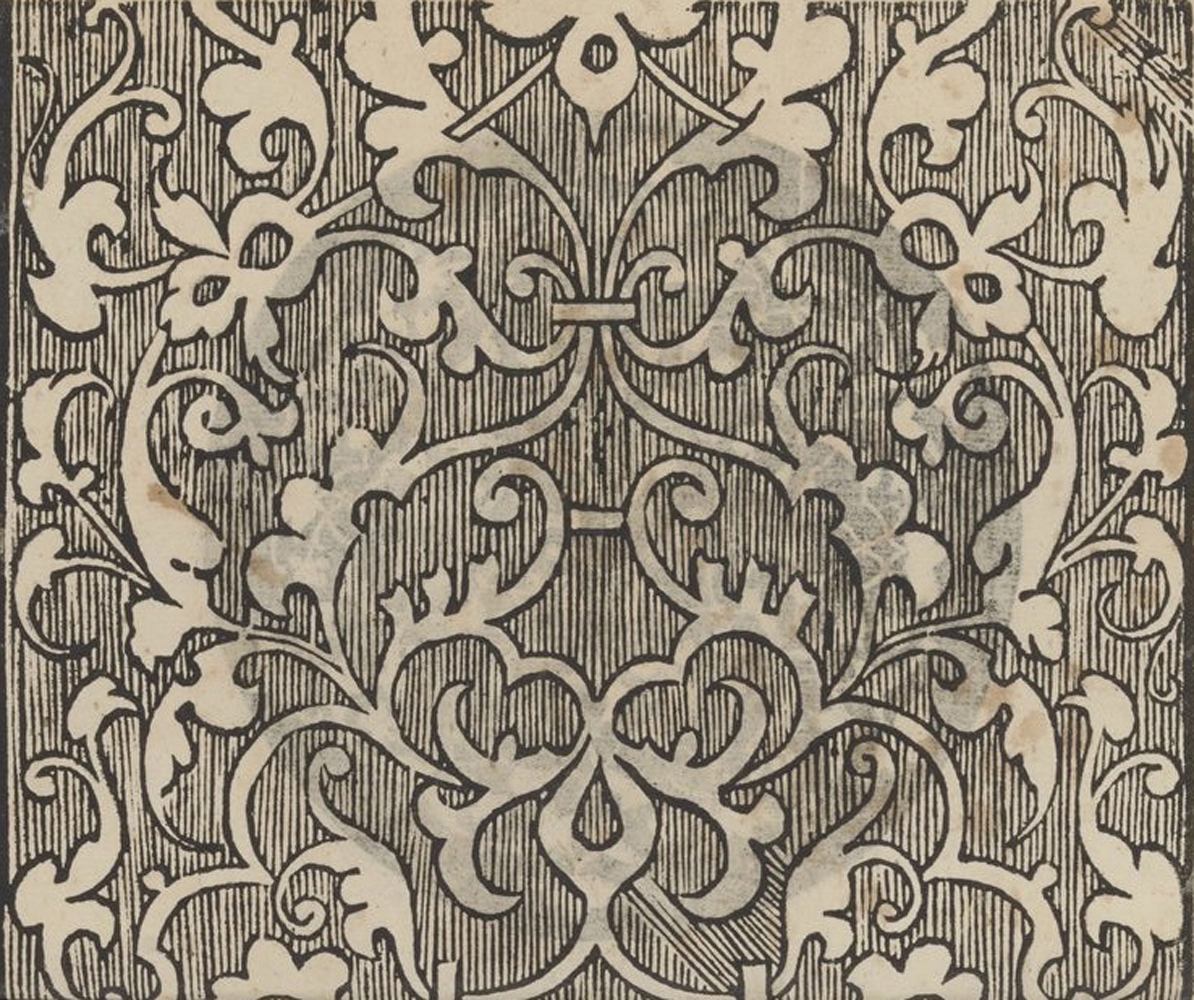 This particular example also demonstrates how grotesque ornament might be filtered through the medium of different arts, such as contemporary textiles; the sgraffito decoration of the frame is related to an early and seminal book of designs for laceworkers, Giovanni Antonio Taglient's Esempio di recammi, published in Venice in 1527; the plates of which were themselves engraved by 'Piron da Carpe, eccellente intagliatore' - an excellent Venetian carver.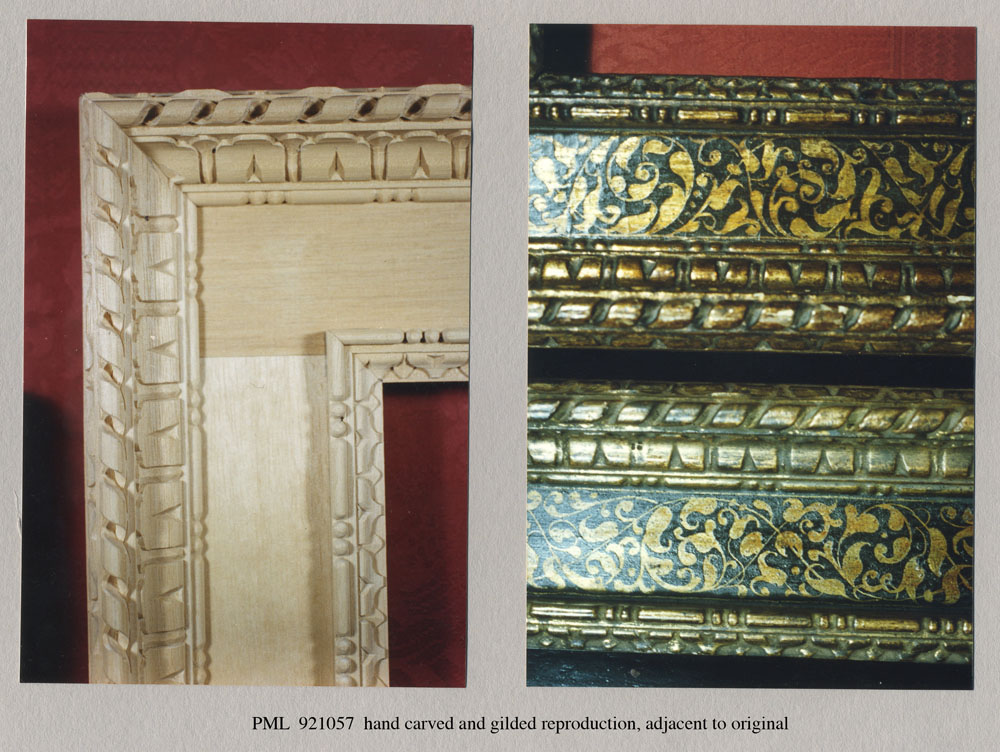 Pattern books such as this one were often used as references for artists and craftsmen in different areas; the adaptation of these refined grotteschi from textiles to gilded wood is singularly successful: so much so that this frame was used as a model by Paul Mitchell for a replica, finished to the same high standard as the original.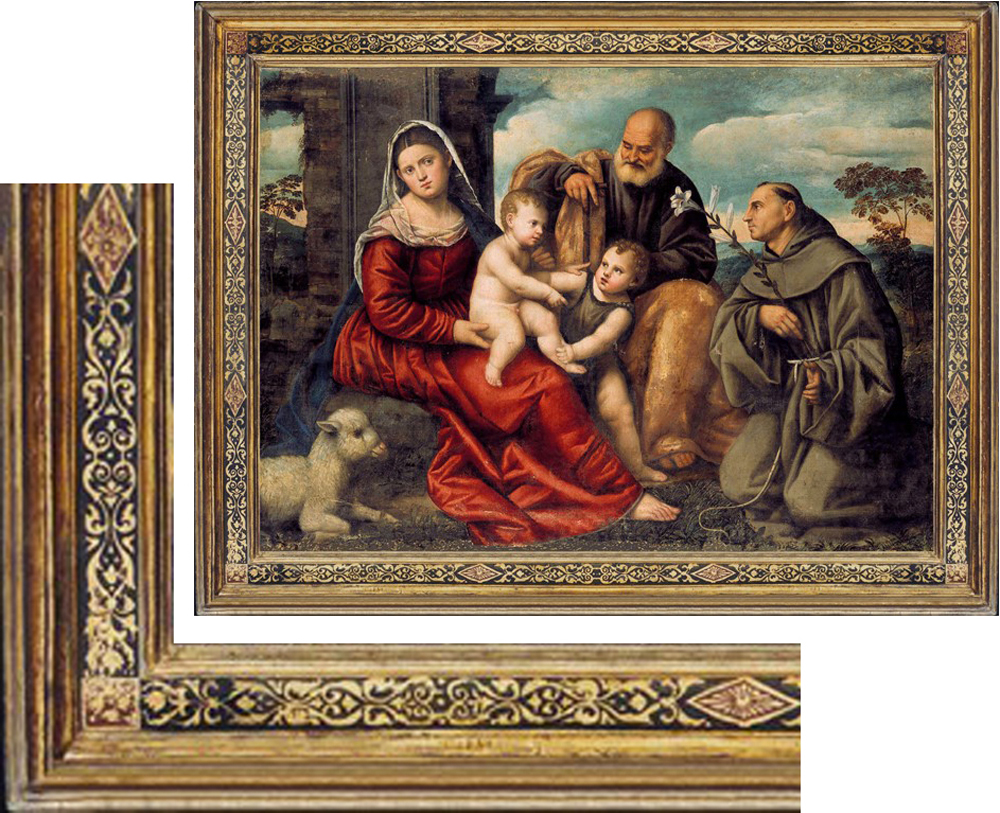 Bernardino Licinio (1489-1565), Sacra conversazione, Private Collection
Another antique 16th century Italian cassetta with continuous arabesque ornament was chosen to reframe Licinio's Holy Family (above).  Here the decoration does not scroll in a continuous flow around the frieze, but takes the form of vertebrate ornament, which is centred and runs along each rail, like a spine, and is interrupted by lozenge-shaped and square polychrome motifs. The subtle use of red emphases here binds the embellishment of the frame more closely to the painting it now holds, and demonstrates the versatility of the arabesque ornament.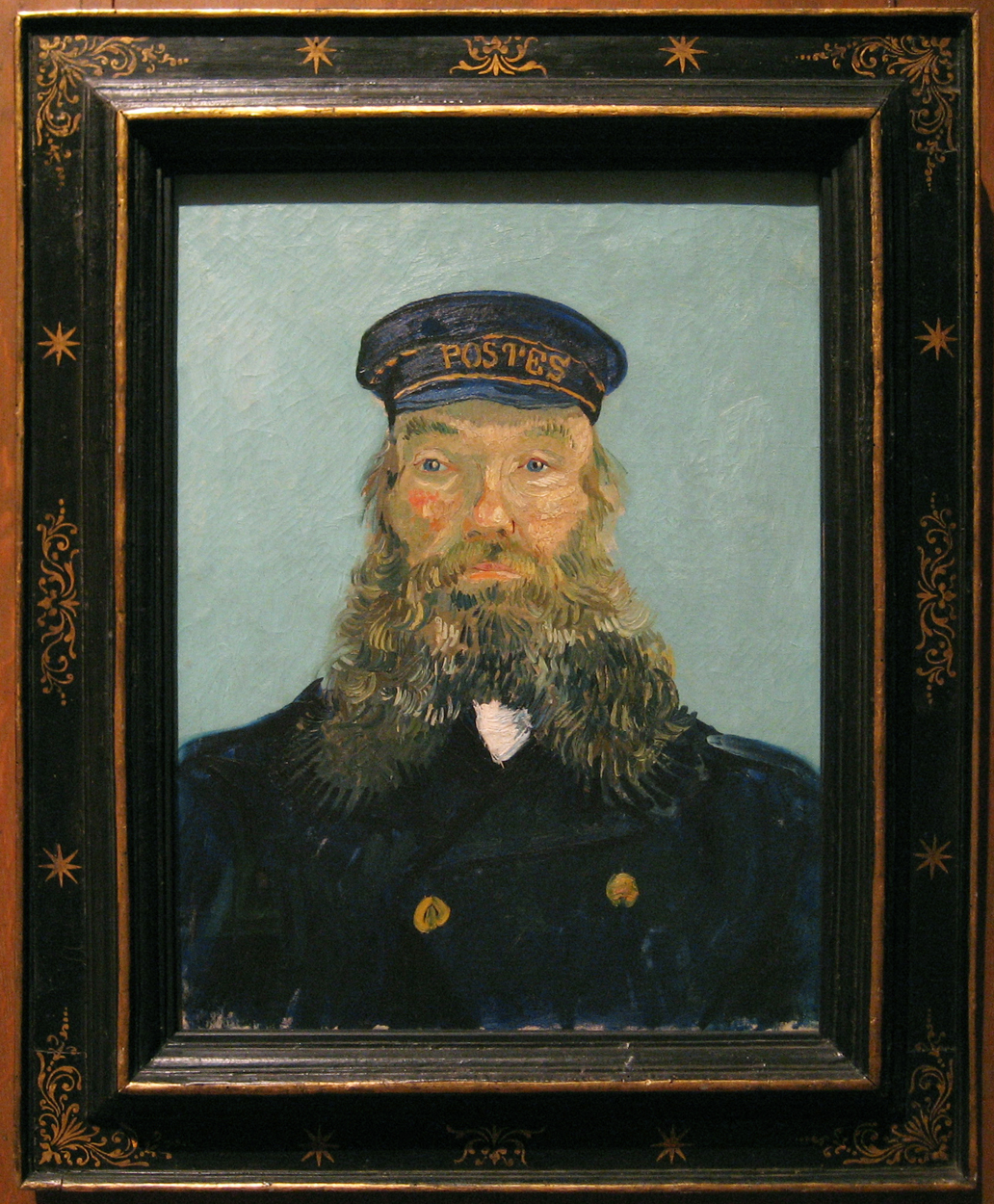 Van Gogh (1853-1890), Postman Roulin, 1888, Detroit Institute of Arts
It is, indeed, flexible enough to provide an admirable style of framing for Modern, as well as Old, Masters. A very striking example of this is the 17th century Tuscan cassetta which has been used to frame Van Gogh's portrait of his friend, M. Roulin. This is a reverse cassetta - i.e. in an arrangement characteristic of the Baroque, the highest point of the profile is next to the picture, rather than on the outer contour of the frame. The frieze, which borders this high sight moulding, is decorated with finely-drawn arabesque flourishes at the centres and corners, with gilded stars between them. The stars indicate that the painting originally contained in this frame may have been a Madonna and Child, or an Immaculate Conception (the Virgin is sometimes referred to as stella marae, or Star of the Ocean). However, Van Gogh's icon-like portrayal of Roulin in a static, hieratic pose is eminently suited to this part-ornamental, part-symbolic setting, which gives it added gravitas and enhances its primitive qualities.

---