Reframing VAN GOGH, Madam Roulin rocking the cradle (La Berceuse), Art Institute of Chicago
Posted: 14 Sep 2023 by PML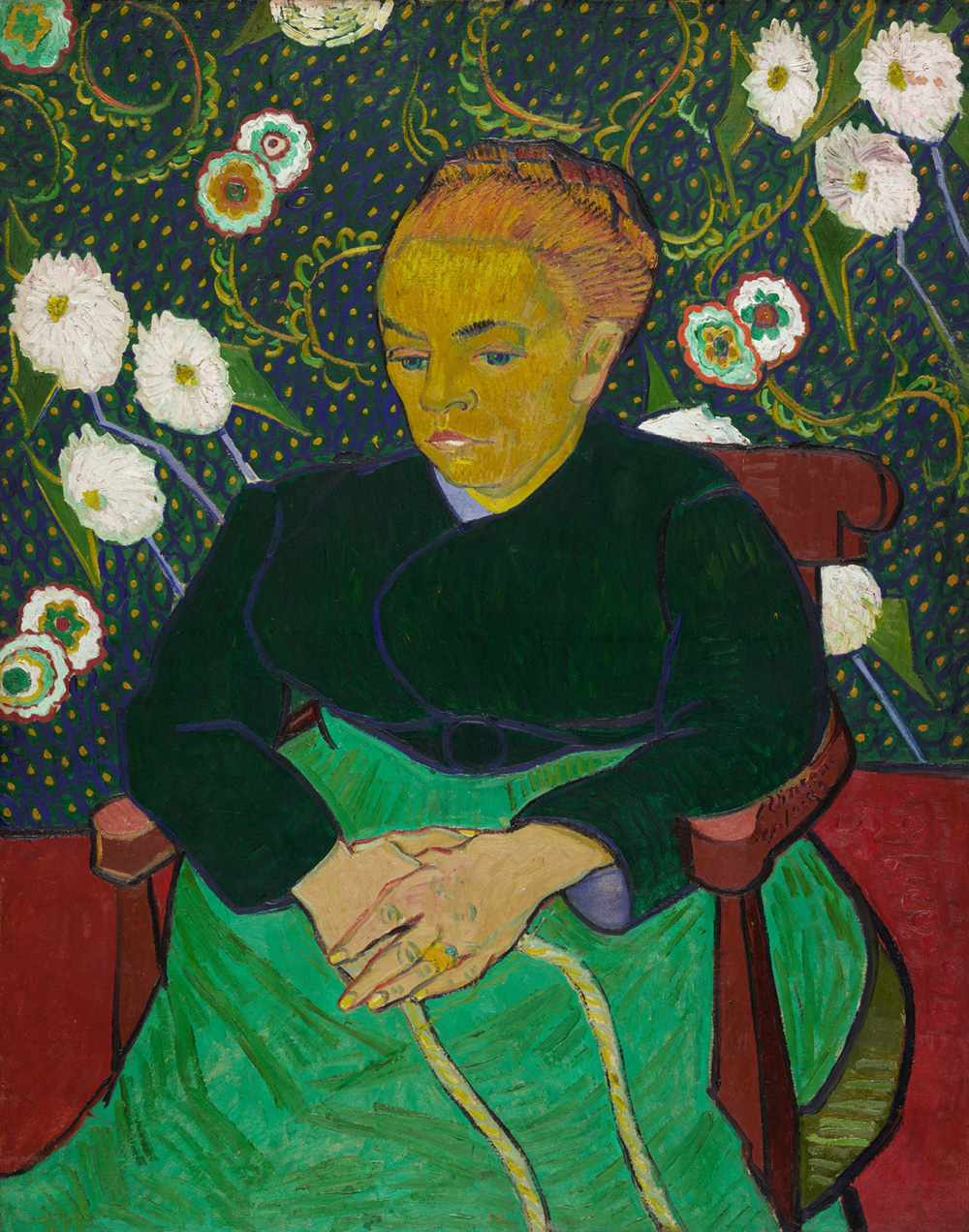 Van Gogh painted Madame Roulin, the wife of his friend Joseph Roulin, a postman in Arles, as a kind of secular Madonna - a symbol of family love and security. He even presented it to Gauguin after their destructive breach, asking that it should be hung as part of a triptych, between two paintings of sunflowers [1]. None of the various versions hanging in present-day museums could be displayed in this fashion unless the gallery in question possessed variants of all three pictures, of course, and over the years the image by itself has attained the status of a classical portrait.
It also seems impossible for it to be framed as Van Gogh wanted – which is, of course, a different question. His letters to his brother Théo carry numerous references to frames for his work, from the report of a simple strip frame painted a walnut colour with a black sight edge [2], to a request for a parcel-gilt frame with a frieze of royal blue plush for The Langlois bridge with washerwomen in April 1888 [3]. Balancing the need for economy with the expressive demands of colour harmony and complements, he abandoned gilded frames for flat mouldings painted white or coloured (and which cost six times less). This was in line with the experiments of the Impressionists in the early 1870s, of which he and Gauguin were aware, and which inspired them in their own framing choices.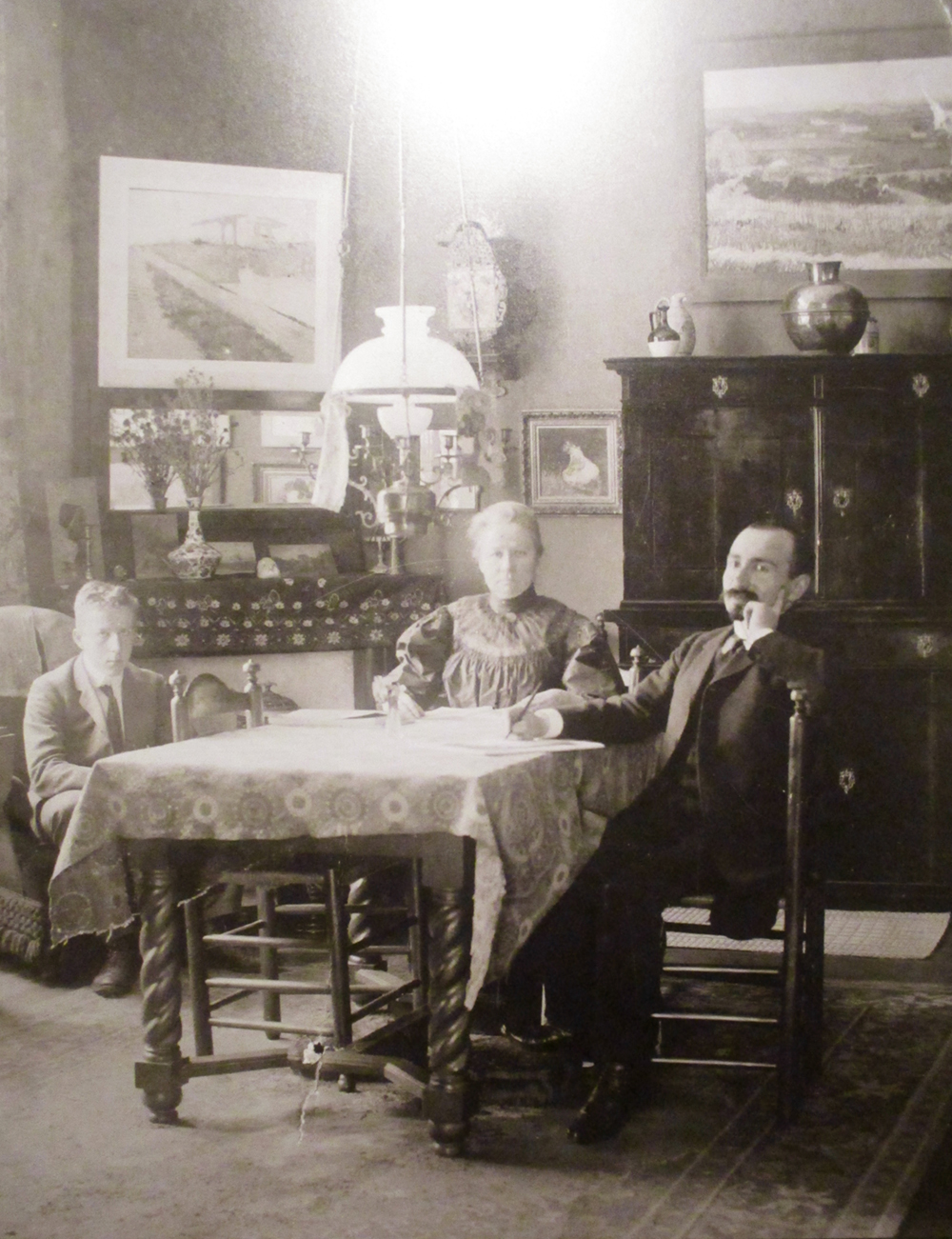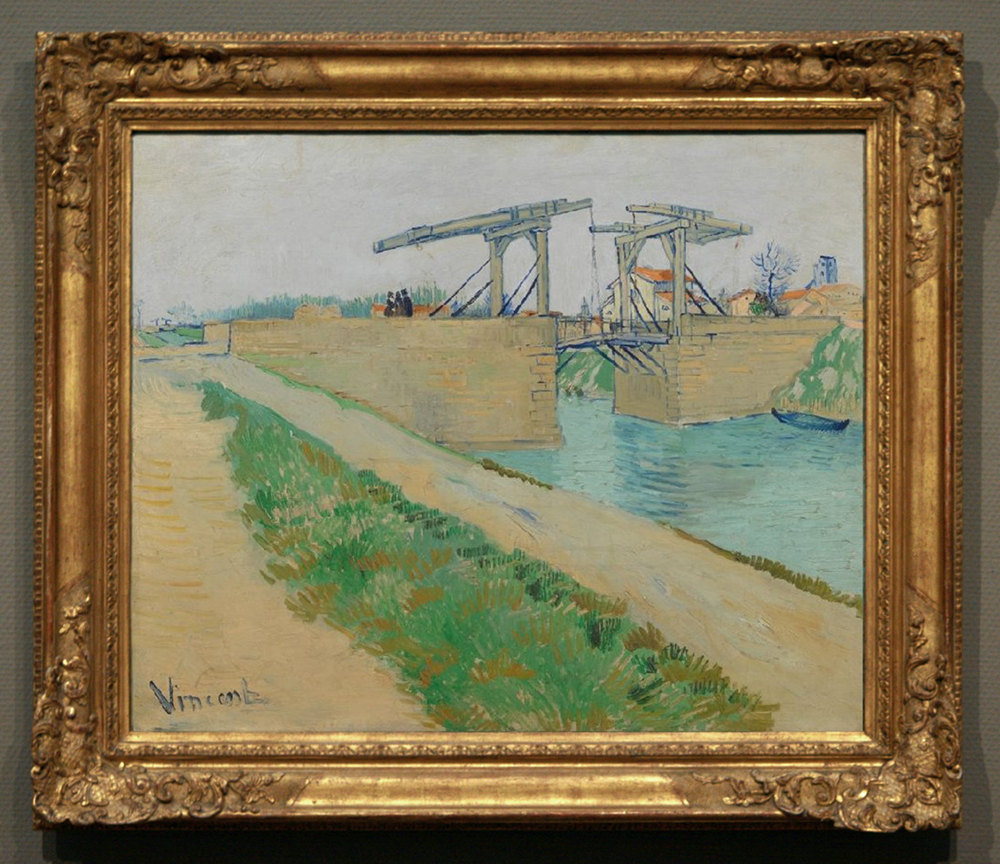 A slightly later version of The Langlois bridge (without washerwomen) can be seen hanging behind Van Gogh's sister-in-law, Johanna Bonger, in a photo of her family apartment. This is the version in the Van Gogh Museum, now immured in a French Baroque gilded frame with ornamental corners, whereas in Johanna's possession it had a wide, flat white frame, given to it either by Van Gogh himself or by Théo.
Like the frames of the Impressionists, the early simple white and coloured frames have all but vanished [4]; there is one frame painted all over with a greenish and golden basketweave pattern by Van Gogh on Still life with grapes, pears and lemons in the Van Gogh Museum, and a white frame with red sight edge on Still life with coffee pot belonging to the Goulandris Foundation, but otherwise his frames have all been replaced by the dealers, owners and galleries through whose hands they  have passed since leaving Johanna's care [5].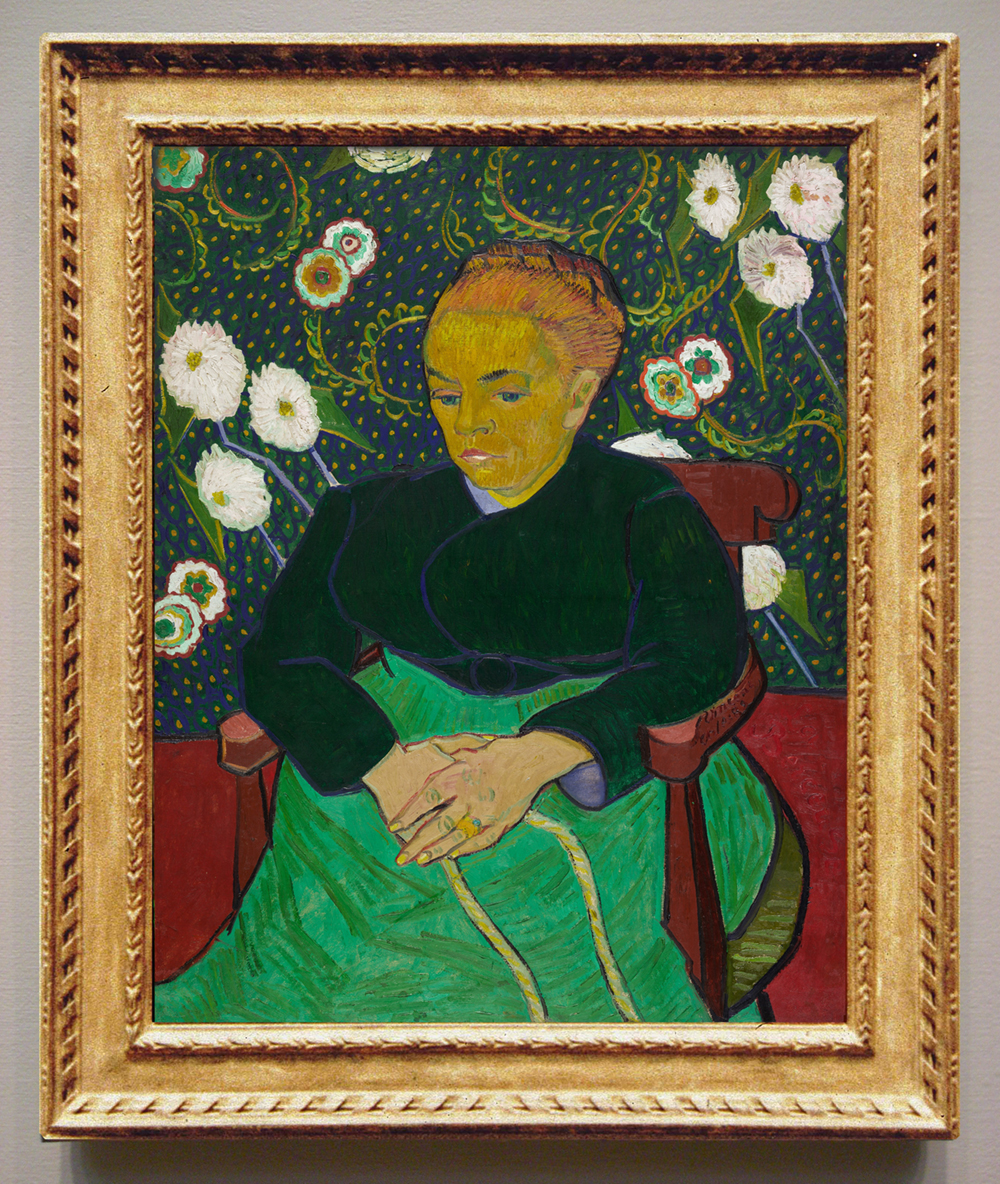 This was what had happened to the version of Madame Roulin... in the Art Institute of Chicago. It had been given a NeoClassical revival frame, similar in design to the pattern which the dealer Durand-Ruel used for Impressionist and Post-Impressionist works in the late 19th century, and gilded in a tone which clashed with the colours of the painting. The whole effect was to make the portrait look spurious – poster-like – and to give the impression that the sitter was sliding forward, out of the frame.
The problem then was, how to remedy this? – what is the best way to frame something which can still be seen as an avant-garde work?  
Three considerations influenced the answer: first, that the portrait would hang with works by Van Gogh's peers, all in collectors' or dealers' frames which were either antique or 19th century reproductions; second, that dealers, collectors and curators today are much more likely to want a painting of this kind hung in an antique frame, which reflects its standing and places it on a level with the great works of the past (Gauguin's and Picasso's paintings, for example, are nearly always reframed in antique settings); and third, that the frame should enhance the painting aesthetically, whilst its choice should bear the artist's own ideas in mind, if at all possible.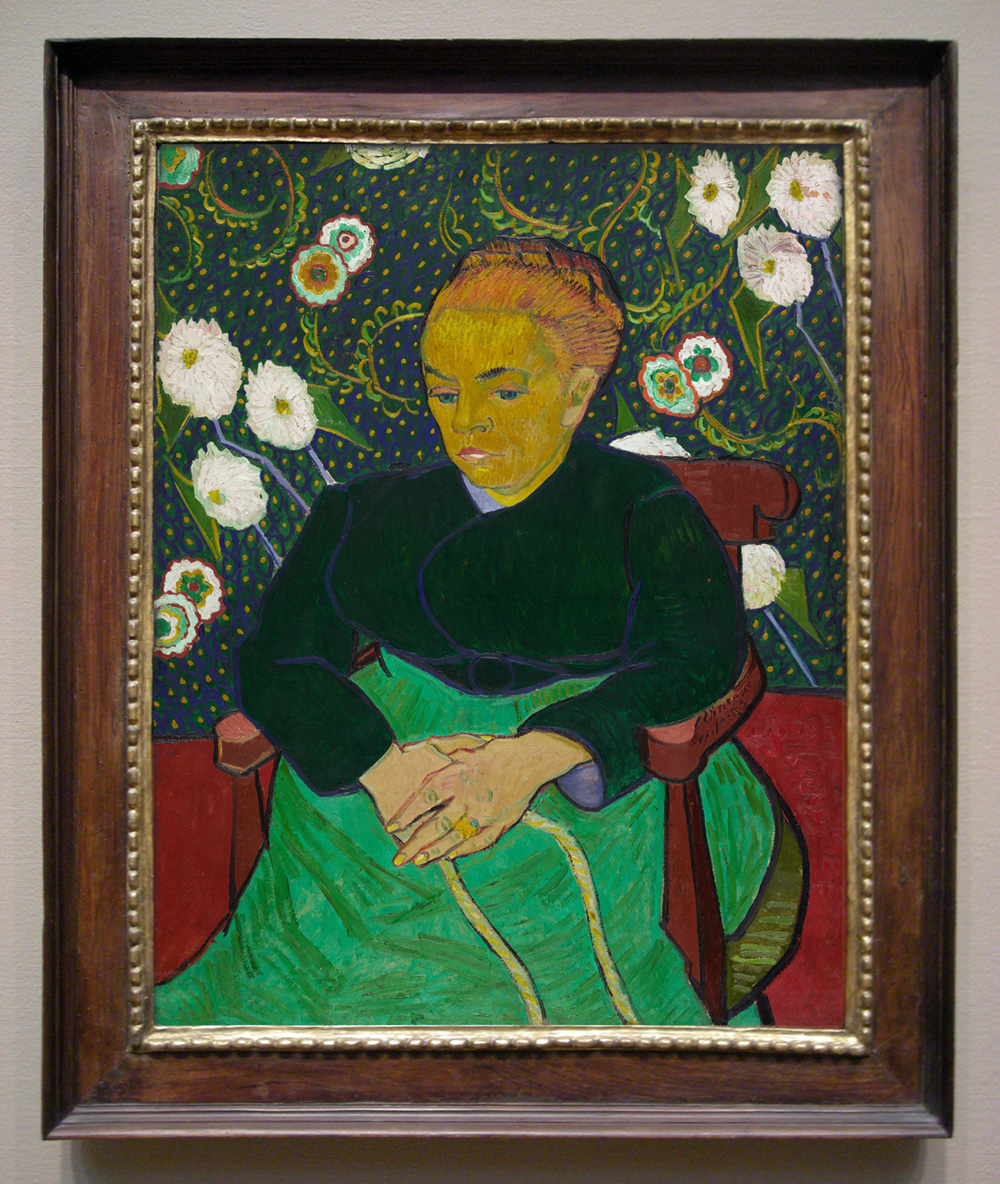 The eventual solution was found by Paul Mitchell Ltd in this late 16th-early 17th century Italian Mannerist walnut frame, with an extremely simple profile: an architrave with a very deep top edge, a plain frieze, and a line of nubbly carved and gilded oval beads at the sight edge. To begin with, this frame sets the figure back into the internal space of the setting, increasing its sense of volume and depth; it doesn't compete with the colours of the painting; and it is tonally in much greater harmony with the whole. The Mannerist slant of the style (expressed in the exaggeratedly steep and slender top edge) echoes the inherent Mannerism in Van Gogh's own approach: the sense that he is employing a distortion of classical style to render his subject more emotionally truthful and expressive.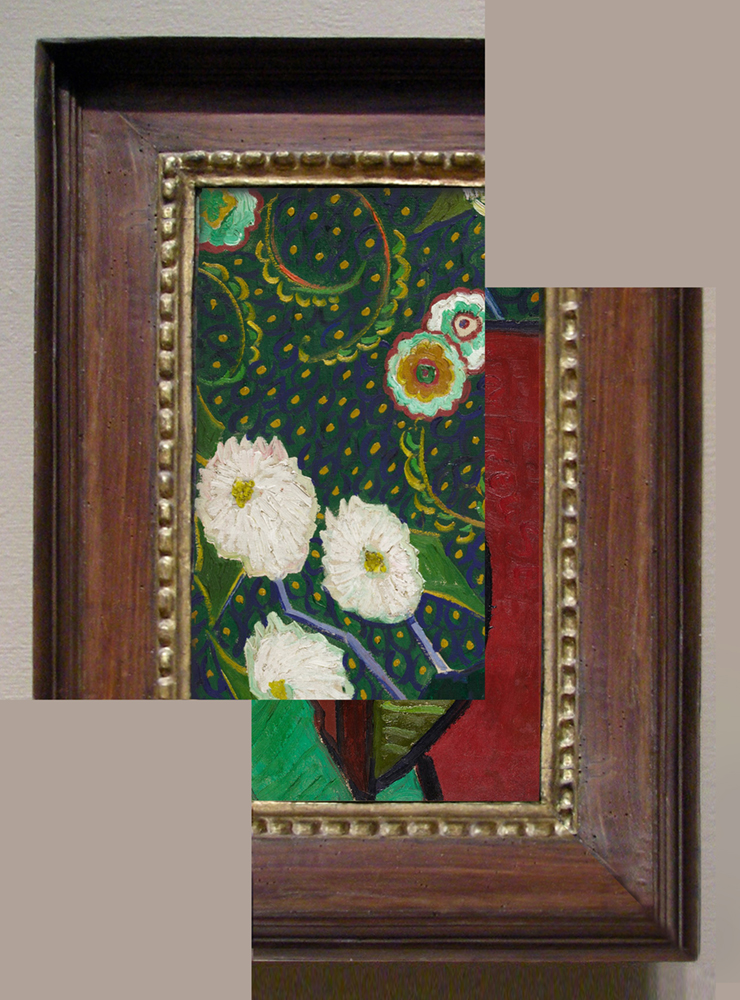 The use of walnut wood even recalls his reference in writing to Théo:
'I've had a frame, or rather passe-partout, made of ordinary wood and given it the colour of walnut with a black inside edge...' [6]
Finally, the slightly unevenly carved beads at the sight edge reflect the uneven gold flecks on the background wallpaper, and the brushstrokes on Madame Roulin's forehead and hair. There is a sense that, in finding this frame, Van Gogh's portrait has settled comfortably into a made-to-measure home, and that its own presence has been noticeably enriched by the move.
---
FOOTNOTES
[1] This was attempted in an exhibition at the Van Gogh Museum in 2013, with borrowed paintings: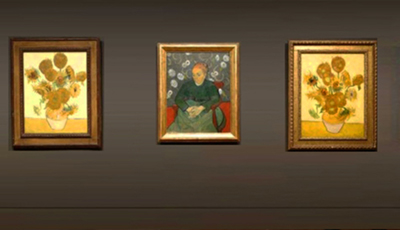 [2 ]Vincent Van Gogh: the letters, ed. Leo Jansen, Hans Luijten and Nienke Bakker, no 348, to Théo van Gogh, 3 June 1883
[3] Ibid., no 592, to Théo van Gogh, 3 April 1888
[4] Degas's paintings remain, to a large extent, in the frames which he designed for them, because he exerted such a tight control over his work; and there is one Pissarro remaining in a white frame
[5]  See 'Framing the Impressionists: Part 1' and 'Framing the Impresionists: Part 2'
[6] Letters, op. cit., no 348, to Théo van Gogh, 3 June 1883
---